This truly stunning insect is an individual of a huge South American grasshopper species known as Tropidacris collaris.  They are sometimes referred to as the VIOLET-WINGED GRASSHOPPER.
This species is one of the largest, if not the largest, grasshopper species in the world and they really are very impressive in the flesh! They are found throughout South America from Colombia down to central Argentina and are found in a wide variety of habitats from humid tropical rainforests to dry arid grasslands. They have very beautiful wings as adults as you can see here: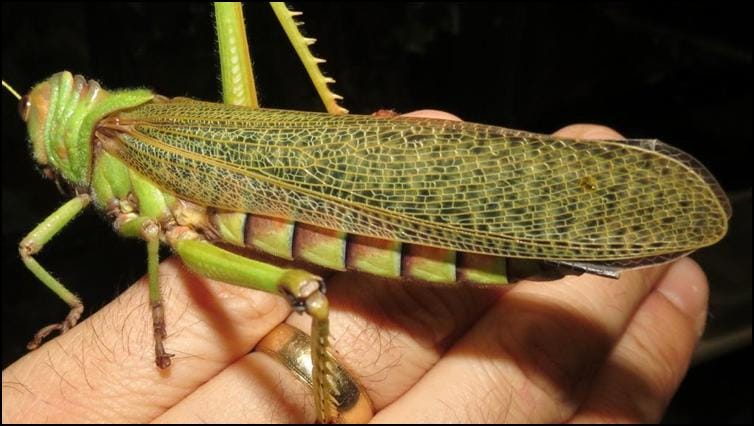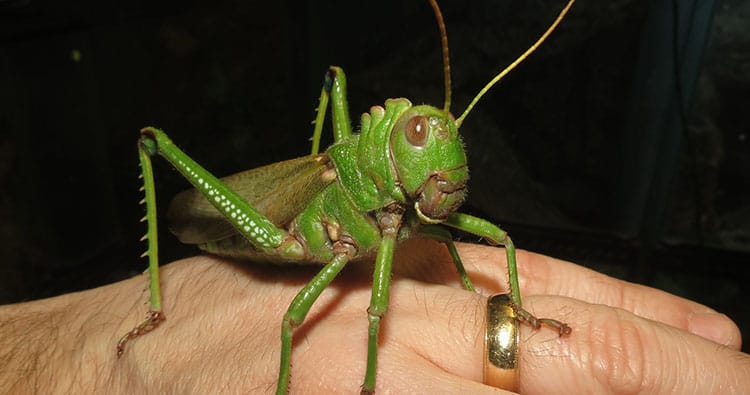 They are herbivorous like the majority of (but not all) grasshopper species and when they are present in large numbers they can be a major pest, destroying crops as well as wild plant populations. Since purchasing my first ever Tropidacris nymphs in May 2012 they have rapidly become one of my favourite insect species, largely due to their beauty but also because of their size, speed of growth and their calm temperament which allows children as well as myself to handle them (where I deem it appropriate of course)!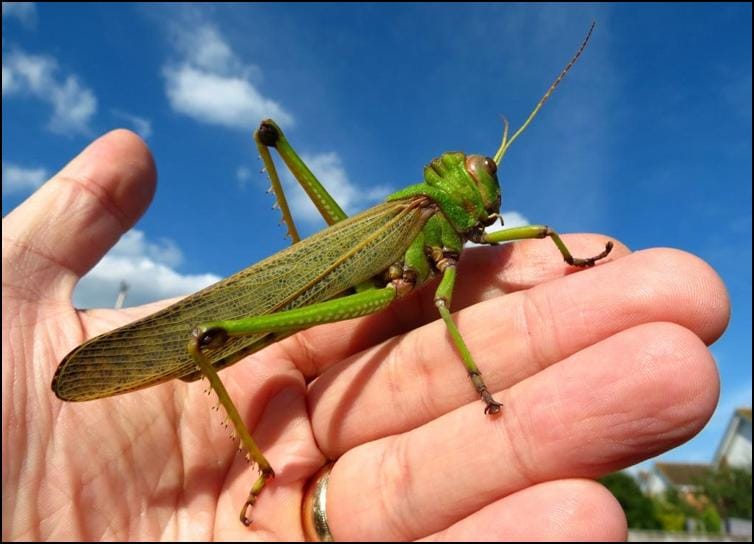 Despite being largely a beautifully intense green colour as adults, these remarkable insects certainly do not start out in life looking like this. In fact as small nymphs, as in the pictures below, there isn't even a hint of green to be seen as they are just a mix of black and orange!
As they moult through their life stages they do develop more colouration but this starts out as just a mix of black, orange and yellow: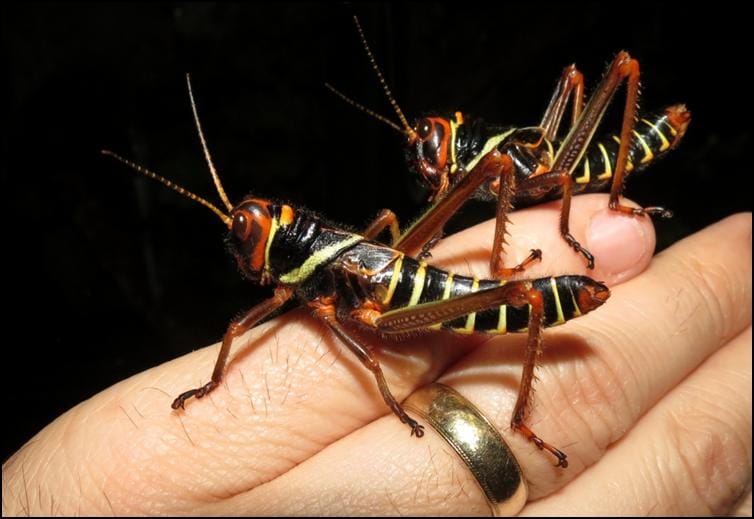 When they reach their subadult life stage, which means they are one moult away from maturity (and full wing development), they are extremely attractive as you can see below:
As they get larger they develop formidable looking spines on their back legs which can be used in a kicking action to protect themselves from danger; these are quite sharp as seen here:
As they approach the final moult of their life cycle the green colouration of the soon-to-emerge adult exoskeleton is clearly visible through the subadult one. This is very clear in the pictures below, which are of the same individual at the same life stage but just a couple of weeks apart!
Here are just a small selection of the empty exoskeletons (exuviae) left behind as the grasshopper nymphs moult through the stages of their life cycle:
The final moulted exoskeleton left behind by a newly-matured adult is a quite remarkable thing in itself. Here it is!
I'm sure you'll agree that this is a very special insect species and they certainly have to be seen to be believed!  Now that I am keeping them I will hope never to be without them, such is my admiration for the species in every way!