COMPETITION TIME!!!

 
I am currently looking for a name for this beautiful snake – please read the information about him for inspiration for your name ideas! For more information about the competition, including how to enter, please check out the bottom of this page. I will very much look forward to hearing your suggestions! 
This absolutely gorgeous snake is a young male TRICOLOUR HOGNOSE SNAKE (Xenodon pulcher) from the rainforests of South America, but which was bred in captivity here in the UK and hatched on April 1st 2021. Its distribution in the wild includes parts of southwestern Brazil, Bolivia, Paraguay and northern Argentina. This is a very small snake species which rarely exceeds 60cm in length, but at less than 25cm this one still has plenty of growing to do!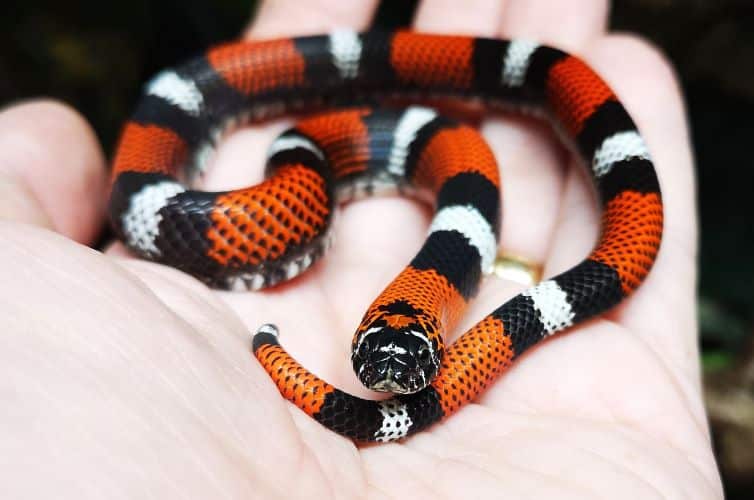 Although not directly related to the milk snakes or tricolour king snakes, the tricolour hognose snake is another mimic of the highly venomous coral snakes which also live in the South American rainforests. Whilst tricolour hognose snakes don't reach the same size or have the same overall body shape as the coral snakes or these other mimics, there is no doubt that their bold colouration will still be a deterrent to potential predators. This particular individual is an especially beautiful example of the species with nice bold white bands – these can be greatly reduced in some individuals of this species so I honestly think this might be the best one I have ever seen!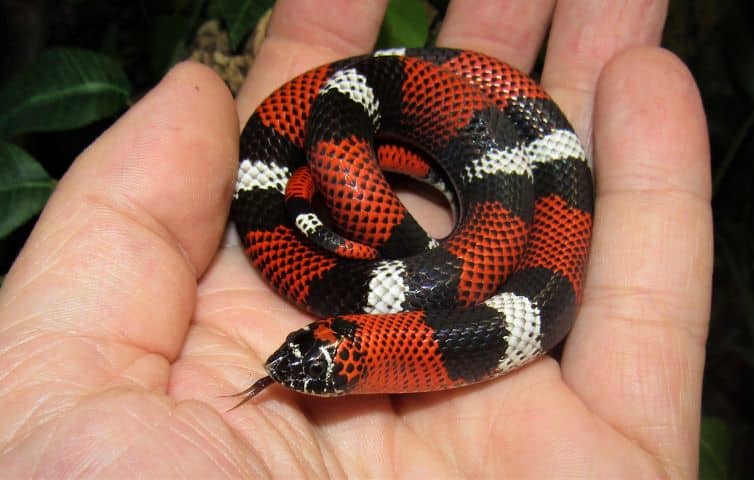 One of the most distinctive features of hognose snakes, including those of the genus Heterodon from North America which are much more commonly seen in captive snake collections, is their upturned snout (which gives them their common name) as seen in these images below! This is used for burrowing and this species is certainly a very keen and able burrower.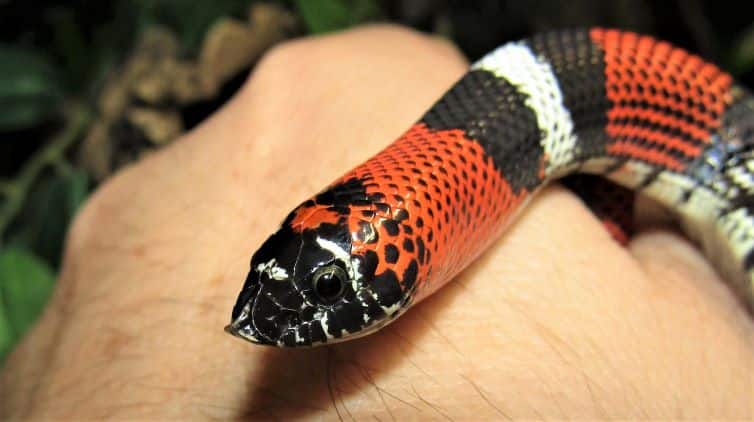 Another fascinating feature of hognose snakes is their defensive behaviour. If they feel threatened they breathe in sharply which causes the area around their head and neck to become enlarged (like a tiny cobra)! This is often followed by loud hissing and bluff striking, where they strike but with their mouth usually closed. A hognose snake even has the ability to play dead by rolling onto its back and opening its mouth with its tongue hanging out! This particular individual, however, is so used to handling and is so calm that he hasn't ever demonstrated any of these abilities!
When any snake is preparing to shed its skin, its colour fades and the skin often takes on a very dull appearance compared to its normal colouration.  Also, the eyes cloud over and often look bluish-grey when snakes are preparing to shed their skin. The bluish tinge and cloudiness of the eyes are caused by the secretion of a fluid between the old outer skin and the new inner skin.  This fluid helps the snake to shed its skin when the time is right, by allowing it to slide off more easily. The pictures above and below show this snake as it appears pre-skin shedding, much duller than the usual vibrant reds and deep blacks!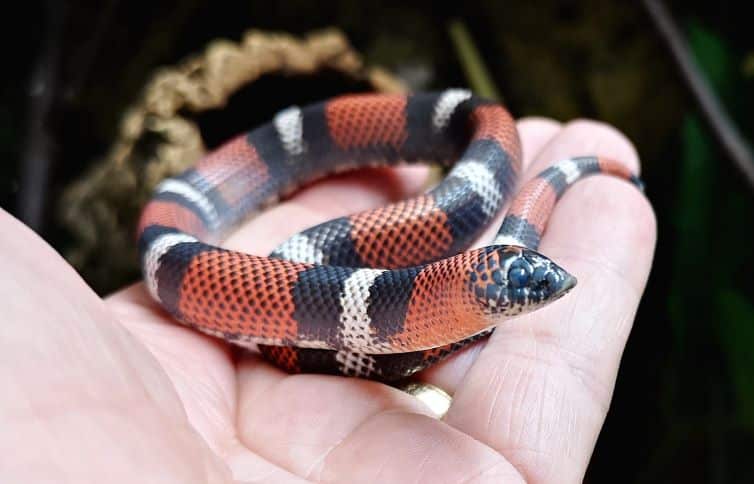 COMPETITION TIME!!
As per the note at the top of the page I am currently looking for a fantastic name for this wonderful snake and am hoping that one of you will be able to think of one! I have successfully run several animal naming competitions in recent years and because I haven't been able to think of a suitably excellent name I thought I would do so again for this little chap!

I'm looking for a brilliantly original name which might possibly be based in some way on his incredible pattern or other aspect of his appearance, his behaviours as described above, his place of origin or whatever else you can come up with! In the past I have been bowled over by the response to my naming competitions and the incredibly diverse name ideas that people young and old have suggested!

To get some inspiration please read all the information above about him and his species and hopefully you'll be prompted to think of a great name and to get involved! If you work in education or in some other capacity with children or young people please feel free to show them this page and to ask them to get involved too! Name suggestions can be submitted via email to [email protected]

The prize will be a half-price visit from some of my animals & I (including this fabulous snake of course) to a venue or event of your choice. This could be a school, preschool, nursery, private birthday party, club meeting or anything else you can think of! N.B. At the time of writing I am not currently offering some of these events due to Covid-19, such as private parties, but the prize can be saved and used at a time when I am back to normal in terms of the events I am offering. 

As I don't travel an unlimited distance with my animals from my home in Swindon the competition prize is definitely available in most areas of southern/central England and South Wales but further afield only by special arrangement and in some areas of the UK it will definitely not be possible to visit.

For this reason I need to know where in the UK you are based when you submit your name suggestion so please do include this information within your email! If you are in a location further away than the competition prize would be available I will let you know by reply, but of course you would still be welcome to get involved and to nominate a school or other organisation / individual to be the recipient of the prize if your name suggestion is the eventual winner! N.B. If more than one person suggests the eventual chosen name the competition winner will be the first person who suggested that name. This has happened twice before! 

The closing date for all entries will be Sunday 31st October and the winner will be announced here soon after this. I will very much look forward to hearing your suggestions!