These very beautiful animals are LEOPARD GECKOS. Leopard geckos live in the hot, dry deserts of south-west Asia, in countries including Pakistan, Iran, Iraq and Afghanistan. They are nocturnal or active at night, which is when they hunt for insects and other small animals to eat. They are very friendly indeed and a big favourite with children and adults alike!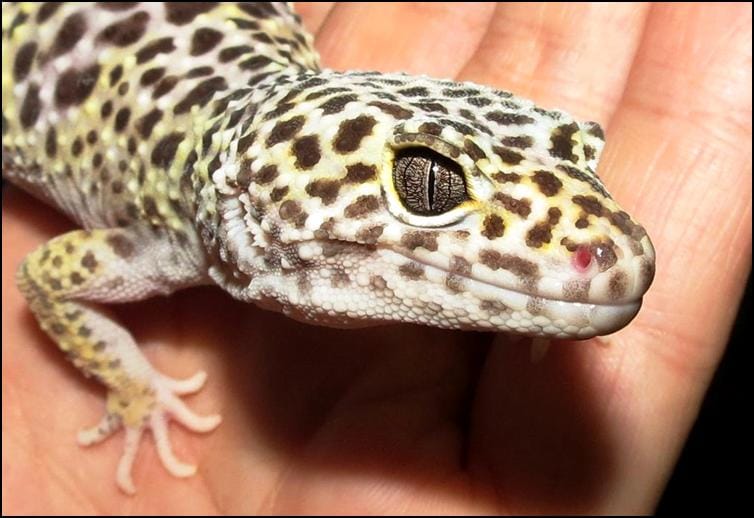 The male in my collection (below) is named Blotch because of the large dark spot in the middle of his back! He is an adult male and the largest leopard gecko in my collection, weighing in at over 80 grammes. Leopard geckos are very variable in terms of colour and pattern and this makes them fascinating to keep, which is something I have been doing for a very long time as leopard geckos were the first geckos I ever kept as a young child!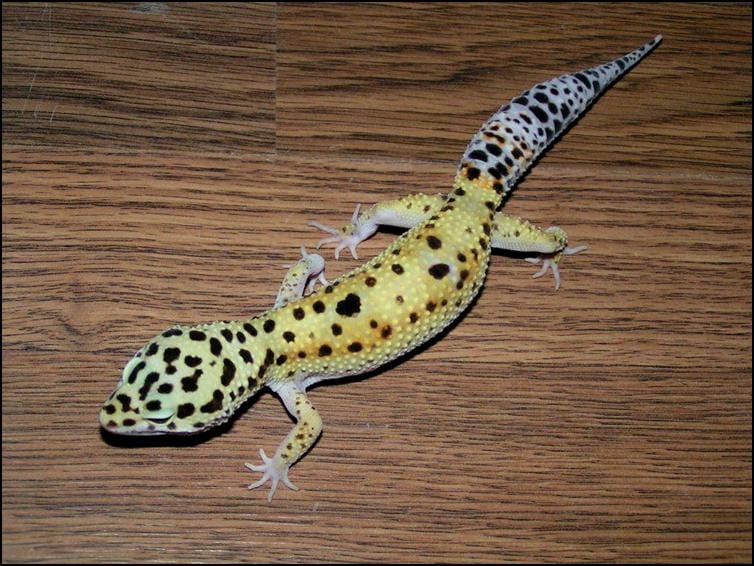 Here is a piece of fantastic (and huge!) art work completed by the Year 2 children of Berkeley Primary School in Gloucestershire, following a visit Blotch paid to their school in the summer of 2011. Thanks very much to class teacher Laura Baker for sending me this photograph and for allowing me to display it here on my website, I absolutely love it! Excellent work children!!
You can see clearly in this next picture of Blotch that leopard geckos have quite sharp claws, unlike most other geckos which have sticky foot pads. The reason for this is that life in the desert would not suit sticky feet as there is not much to climb around on, so claws are more suitable for crawling around on the dry and rocky ground.
Blotch has been successfully breeding with two adult female leopard geckos since late 2011 and these females are both very beautiful (but very different in appearance, both from Blotch and from each other) as you can see below – the very yellow one in the first two pictures is named Fanta and the much paler one below is named Gizmo!
Gizmo represents a particular colour form of the species known as the 'Mack snow' leopard gecko. These geckos hatch without any yellow colouration at all and only develop a small amount of yellow as they grow, so that as adults they have at most a pale pastel yellow background colour rather than the intense yellows of my other leopard geckos. When I first bought Gizmo she was already developing her colour but was still a lot paler than she is now, as shown here: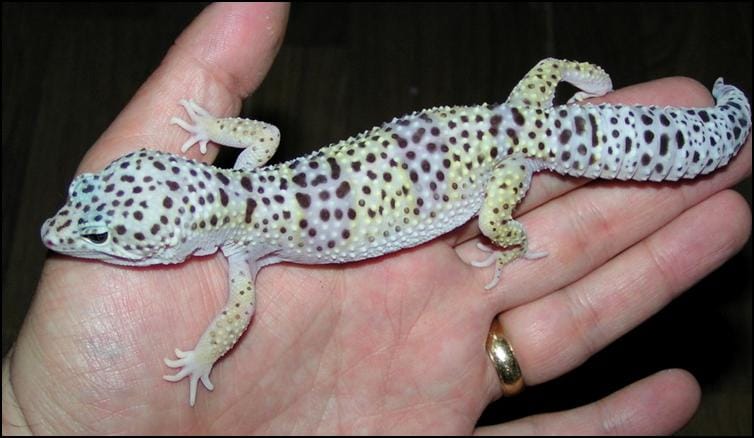 Leopard geckos lay eggs like most, but not all, lizards. Their eggs can take anything between seven to fourteen weeks to hatch depending on the temperature at which they are incubated. Very unusually, the temperature at which the eggs are incubated will also determine whether the baby gecko will be male or female, with females generally being produced at cooler incubation temperatures and males at higher temperatures!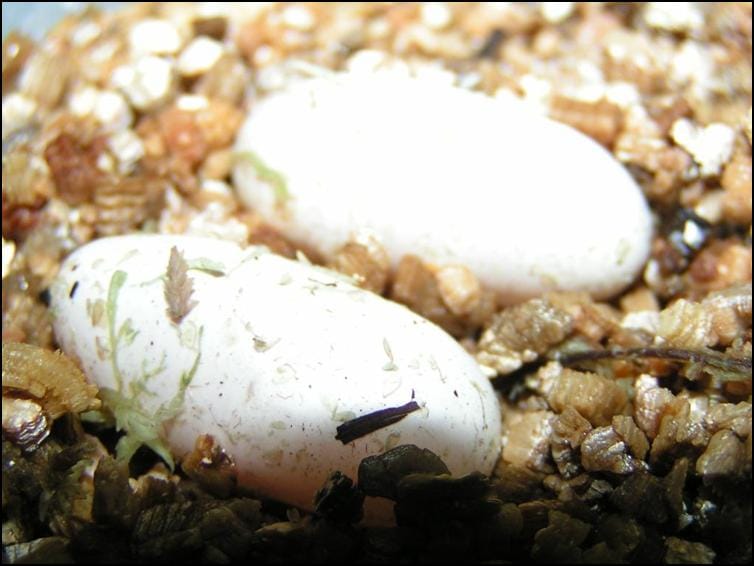 I have spent a great many years breeding leopard geckos so have seen a lot of babies in my time, but despite this it is still really exciting to watch each one hatch and you never get tired of seeing new ones! When they are ready to hatch the babies slit the egg with a special tooth at the front of their mouth and they often sit with their heads partly or fully out of the egg for a while before fully emerging. Here is one which has just slit the egg and has its head poking out!
In spite of their generally spotty appearance as adults, when they first hatch most leopard gecko babies have a (mainly) banded pattern of dark brown and yellow with a black and white banded tail like these ones:
Sometimes the yellow colour can be much brighter, and still other times there may not be a banded pattern at all, as they can be very variable in colour and pattern from the moment they hatch as you can see in just the few examples of other babies below!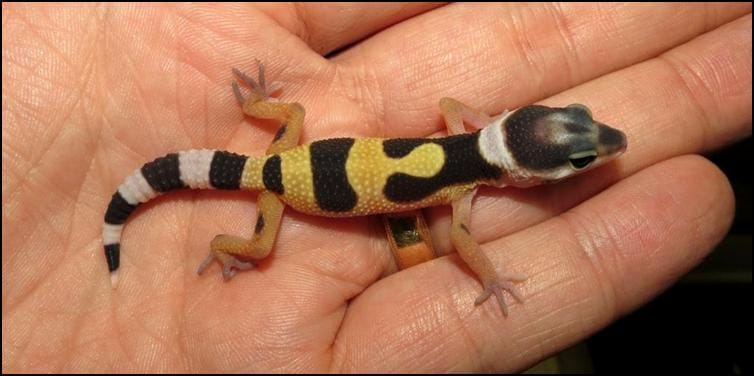 In some colour forms of the leopard gecko there is no yellow colouration at all when the babies hatch. I have bred a number of 'Mack snow' leopard geckos, which is one such colour form where newly-hatched babies lack the yellow colouration completely. As described in the text above Gizmo is one of my adult females and is a Mack snow leopard gecko herself, it is she who produces these non-yellow babies which are still adorable as you can see here!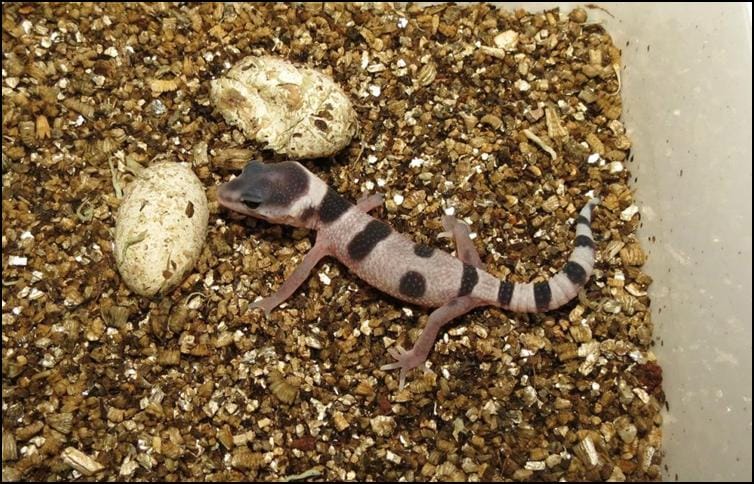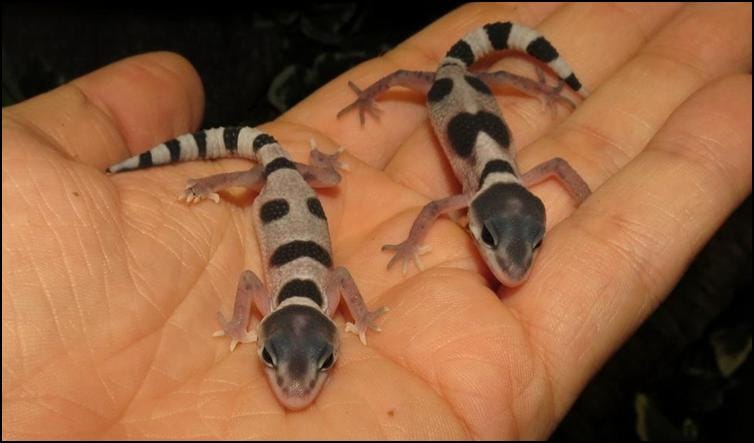 You can clearly see the difference between Mack snow and 'normal' high-yellow leopard gecko hatchlings below:
I'm sure you'll agree with me that whatever their pattern or colour may be, the babies are always gorgeous! Irrespective of their colouration as babies their pattern changes a huge amount during development and eventually they can be quite spotty as demonstrated by both Blotch and Gizmo at the top of this page.