These amazing animals are IMPERIAL (or EMPEROR) SCORPIONS from west African countries including Togo and Ghana. Despite their fearsome appearance and reputation some scorpions are actually quite docile, and these certainly are! They are only active at night and usually spend the day resting in deep burrows which they have dug for themselves!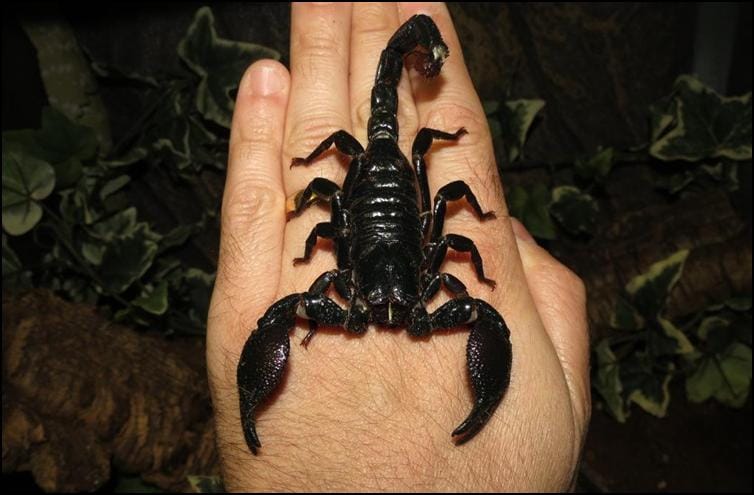 One amazing fact about imperial scorpions is that despite being jet black they glow or fluoresce a bright green colour under Ultraviolet (UV) light. I demonstrate this whenever I take imperial scorpions out with me on visits and it never ceases to amaze both children and adults alike. Nobody knows exactly why this occurs but the fact that it does provides me with a superb opportunity to demonstrate a weird and wonderful feature of the natural world!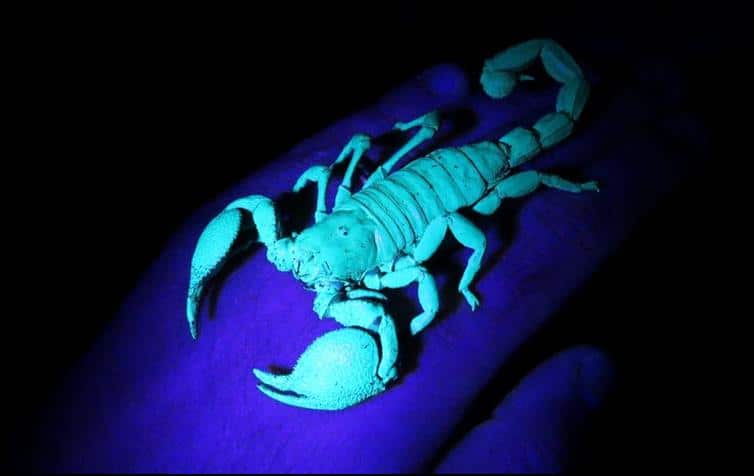 It is really hard to capture the true colours on camera but the pictures above and below at least demonstrate that the UV light does indeed make the scorpion glow. The actual colour is a vivid bright green which, when viewed in a darkened room, is truly astonishing to see!
Scorpions give birth to live babies rather than laying eggs and I am fortunate to have had great breeding success with my scorpions over the years. Over a period of many months a pregnant female scorpion's abdomen swells to a huge size causing the dark coloured abdominal 'plates' to separate, revealing the soft membranous tissue which connects them, as seen below: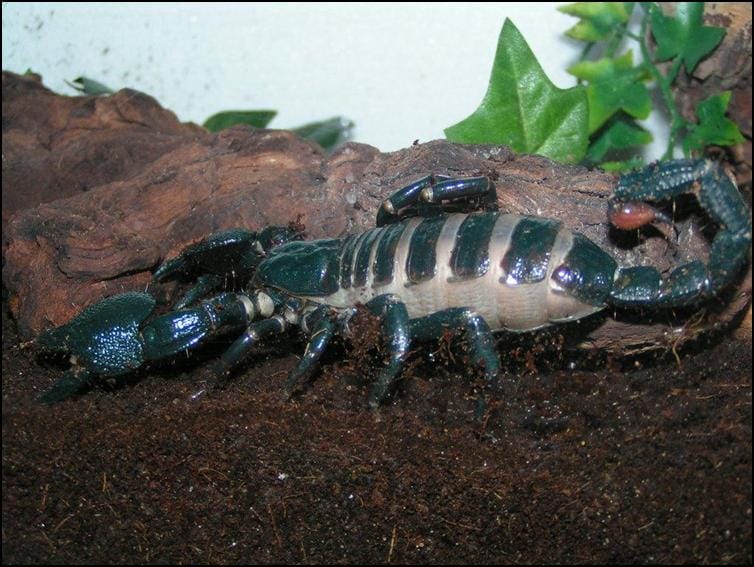 Once they are born the mother scorpion carries her babies around on her back for the first few weeks of their lives to protect them from danger and even breaks up pieces of food to feed each individual baby, demonstrating fantastic parenting skills and devotion to her babies!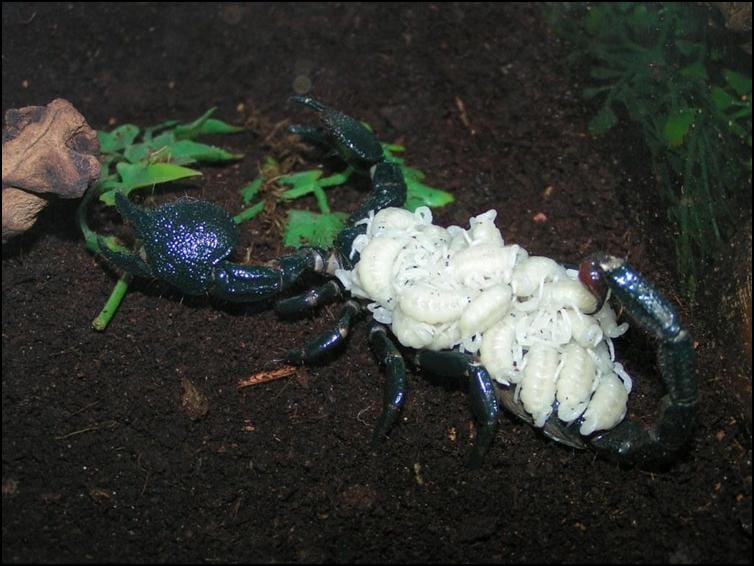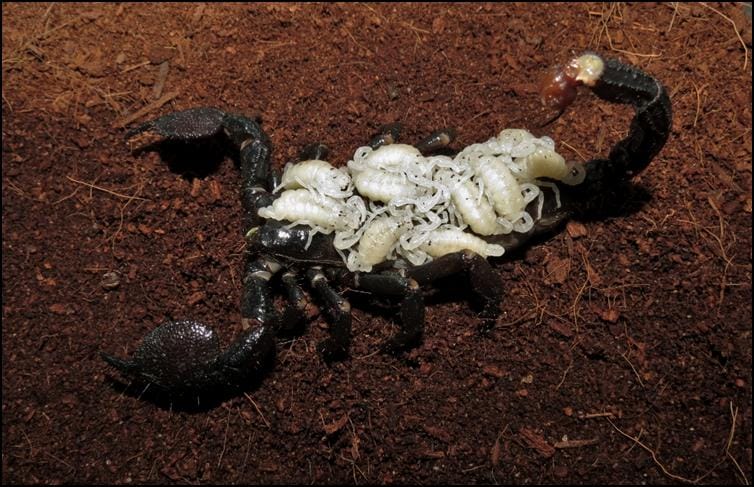 Up close they are SO cute, like little tiny cartoon characters or something!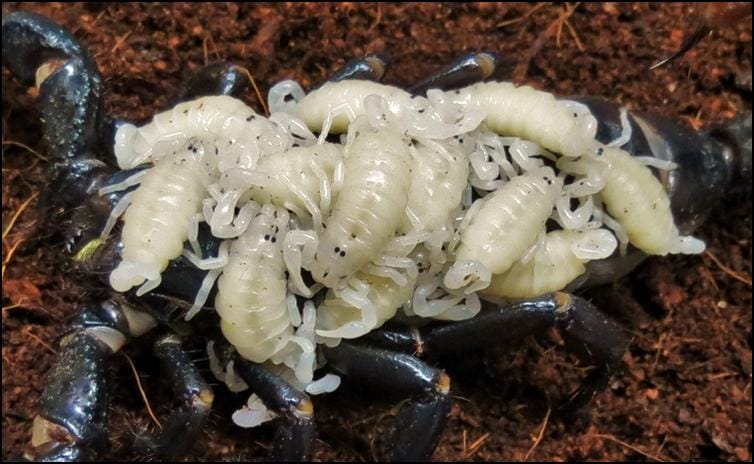 As the babies grow and develop they moult their exoskeletons and take on more of a typical scorpion shape as seen below, rather than the 'blob of jelly with legs' shape which they appear to be soon after being born!
At this stage they become independent of their mother and one by one they leave her abdomen for good:
I would never try to remove newly-born babies from their mother's back as she can still be very defensive of her little ones at this stage and will sting or pinch anything that moves near to them! However once they have moulted and left her for good it is easy to show off how adorable baby scorpions can be, as you can see here: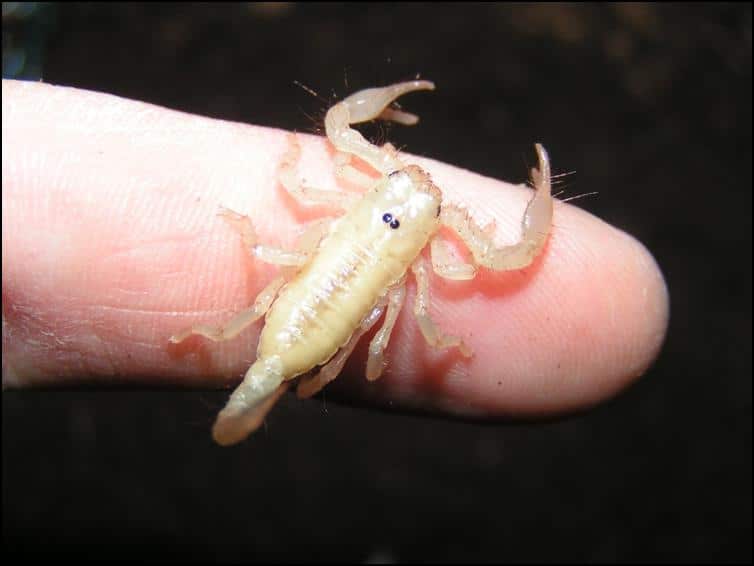 For LOTS more information and many more photographs of imperial scorpions please click HERE!