This truly beautiful snake is a young male DUMERIL'S BOA or MADAGASCAN GROUND BOA, a species which in the wild is found only on the south west part of the island of Madagascar.  They are found mainly in dry forests and other arid regions with low rainfall.
Tragically this fantastically attractive snake is an endangered species and threatened with extinction in the wild, due mainly to the large-scale destruction of its habitat on Madagascar in order to create agricultural land or areas for livestock grazing.  Sadly these snakes are also sometimes killed for their beautiful skins and some are eaten by local people, whilst others are killed because ignorance leads people to believe they are dangerous even though they are not.
Due to their endangered status the Dumeril's boa is listed as a CITES Appendix A species, meaning that it is illegal for the snakes to be exported from Madagascar. CITES stands for the Convention on International Trade in Endangered Species and it is an international agreement between world governments, the aim of which is to ensure that international trade in specimens of endangered wild animals and plants does not threaten their survival.  Dumeril's boas were once exported from Madagascar in large numbers for the pet trade, which will undoubtedly have also contributed to the low numbers which now remain in the wild.
Despite their conservation status the species continues to be bred in captivity in good numbers which is excellent news.  This fabulous individual was bred at the Cotswold Wildlife Park in Burford, Oxfordshire, a fantastic wildlife park which my family & I visit regularly and which I started visiting myself with my own parents at a very young age!  It is also a place with which I have had links for many years through my interest in reptiles in particular.  In fact I did my secondary school work experience in the very same reptile house where this snake was born in 2010 but that was way back in 1989, 22 years ago as I type this!
This male is one of 16 babies which were born at the park's reptile house on 30th July 2010.  I am extremely grateful to the staff of the Cotswold Wildlife Park for agreeing to donate him to me in September 2011, something they were willing to do so that I can use him in my educational talks about the plight of endangered animal species in the wild.
Due to their conservation status anyone keeping a Dumeril's boa has to hold a CITES certificate for the snake and it also has to be electronically tagged so that it can be individually and uniquely identified as and when this may be required.  This snake has therefore had a microchip transponder injected just under the skin, this does not cause the snake any problems at all and it is unlikely that he even knows it is there!  As you can see from the pictures above and below the head markings of Dumeril's boas are absolutely stunning:
In late 2011 I ran a competition via this website, as well as through my Facebook page and Twitter profile, to find a name for this wonderful snake. My sincerest thanks go to everyone (young and old) who suggested names – I received so many more than I was expecting!  Special thanks must go to the BBC's Debra Hearne (who I worked with during the BBC Live 'n' Deadly tour in Autumn 2011) for the inspiration of giving him a vanilla-themed name (due to vanilla being a major export from the island of Madagascar).  It turns out that the name given to the type of vanilla grown on Madagascar is Bourbon vanilla – as the bourbon is also my favourite type of biscuit in the world ever AND his base colour is even the same as a bourbon biscuit, his name just had to be BOURBON!!  Other people suggested vanilla-themed names but Debra was the first, thanks Debs!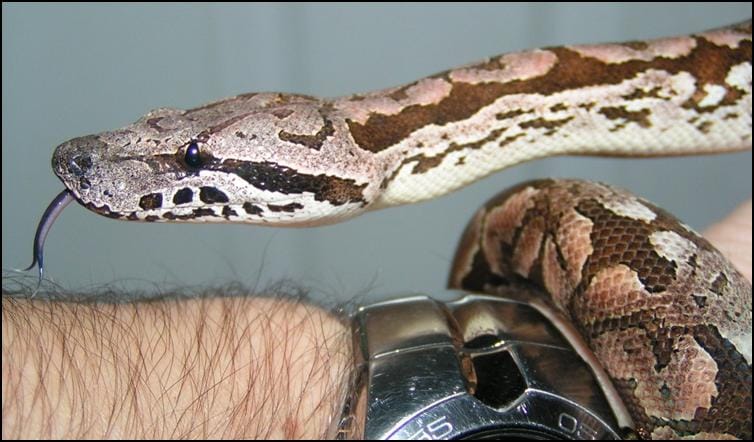 Like all of my snakes Bourbon is exceptionally calm and tolerant of handling, in fact the Dumeril's boa is a species well renowned by snake keepers for their docile temperament.  As a juvenile Bourbon still has lots of growing to do, as individuals of this species regularly reach in excess of 6 feet (180cm).  I am really looking forward to watching him grow and develop because he is truly a fabulous snake, who at the moment seems to enjoy wrapping his tail around my thumb as you can see below!!
Dumeril's boas are mainly active at night and are known as ambush predators because they often lie hidden, buried under leaves or other floor material, waiting for an unsuspecting rodent or other small animal to come their way.  They use their keen sense of smell (via their tongue) to accurately locate a prey animal before literally exploding out of the ground as they strike open-mouthed to catch their prey in their sharp teeth.  They will then immediately constrict the prey animal (meaning to squeeze it tightly until the animal suffocates) before swallowing it whole.
Like all snakes Bourbon has to shed his skin regularly.  Here is one of his skins after shedding, you can clearly see the scale structure of the skin here as well as the eye scales or 'spectacles':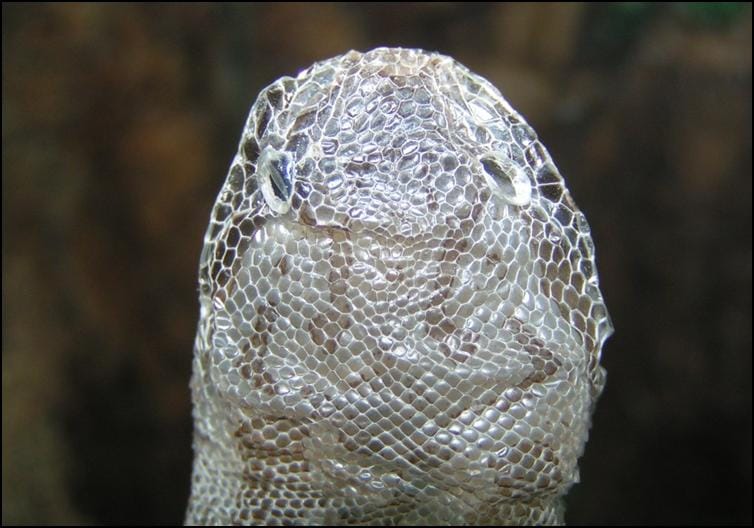 In this close-up picture the skin seems to have the appearance of honeycomb and/or bubble wrap!  It is certainly very easy to tear and needs to be handled carefully to prevent damage.