This beautiful creature is a female stick insect of a species known only by its scientific name of DIAPHERODES GIGANTEA. In the wild it is found on several Caribbean islands including Grenada, where they spend much of their time hiding in (and eating) the leaves of Eucalyptus trees and other native tree species.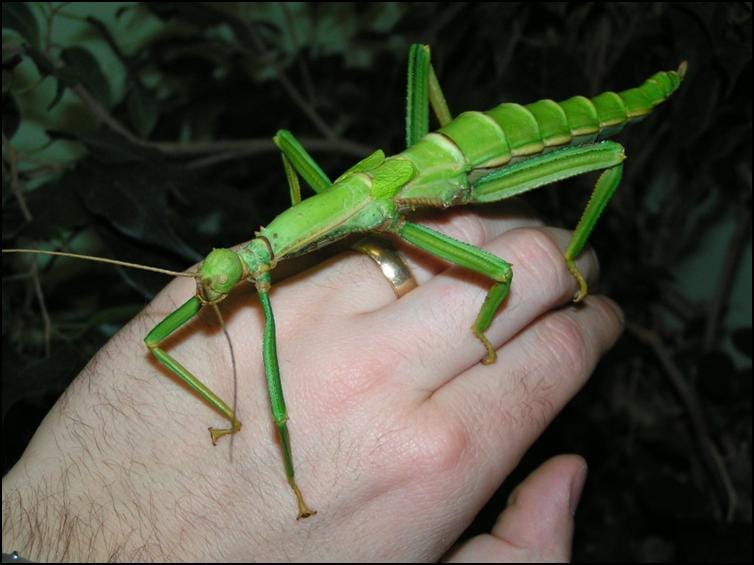 As you can see the females of this species are exceptionally beautiful and a beautiful bright green colour. The males on the other hand, as in so many phasmid (stick & leaf insect) species, are not nearly as colourful and are also much smaller than the females and able to fly, here is a male for comparison: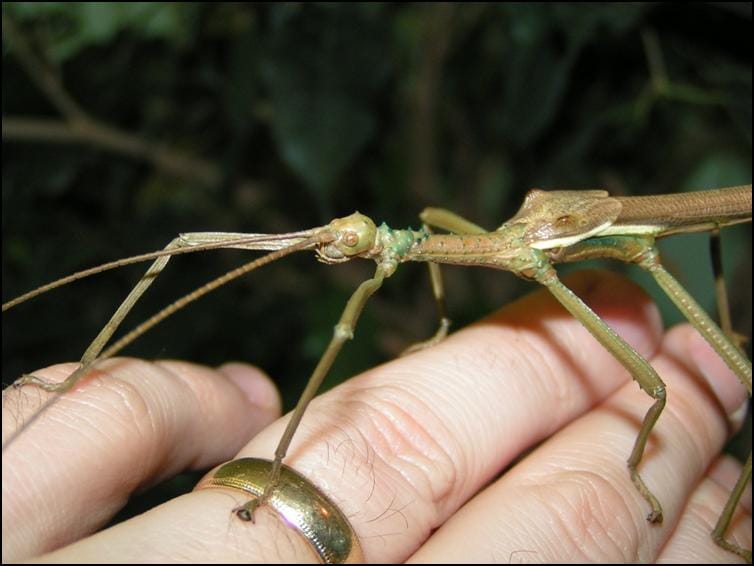 Like all phasmids this species lays eggs (known as ova) and these ova have a very distinctive shape. This is the case in almost all stick insect species and the ova of different species can be very different from each other, this certainly helps when you are trying to work out whose ova are whose in a mixed-species enclosure!
Newly-hatched Diapherodes gigantea babies (known as 1st instar nymphs) are very small and very cute as you can see here: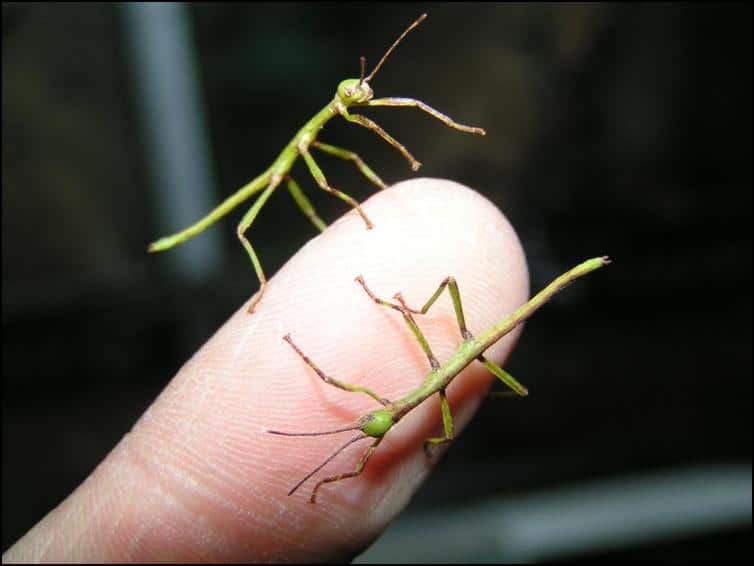 They differ enormously in size to individuals of adult size as you can see here, where a 1st instar nymph is hitching a lift on the back of an adult female!
As the nymphs grow they have to moult off their old exoskeleton regularly. Each time they do this the way we describe their size changes – from 1st instar (newly hatched) to 2nd instar (after they have moulted for the first time) and so on until eventually they reach their adult size and form. These are two nymphs at about halfway through their development:
In the picture below there are two small nymphs hiding on a stem of a Eucalyptus tree, can you see them??
Camouflage plays a large part in the lives of many phasmid species as they rely on their camouflage to protect them from predators. In the case of Diapherodes gigantea this is especially true as this species does not have the ability to protect themselves by kicking with sharp spines like my jungle nymphs. This also means that they are completely safe to handle and my females of this species are regularly handled by both children and adults during school and other visits alike!