Meet Rosanna, a lovely CHILE ROSE TARANTULA from (believe it or not!) Chile in south America. The 'rose' part of the name comes from the pretty pink colouring on the top part of her body. She loves to eat crickets and other insects but sometimes will choose to go without any food at all for weeks and weeks!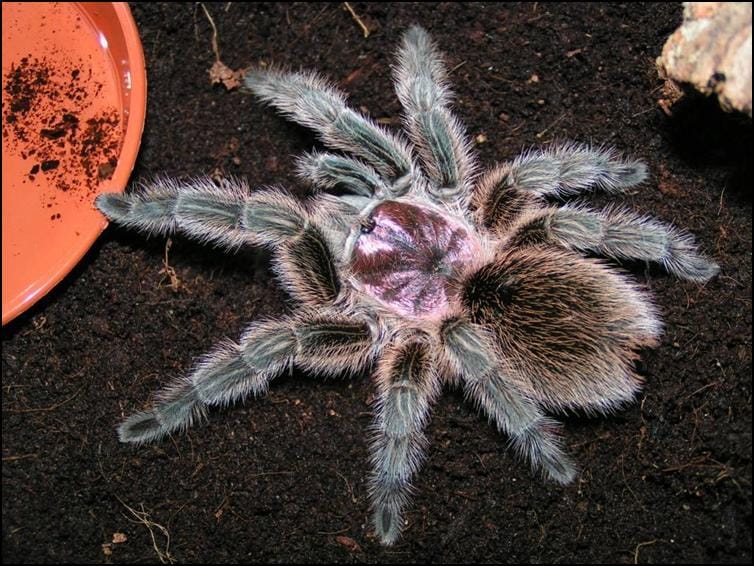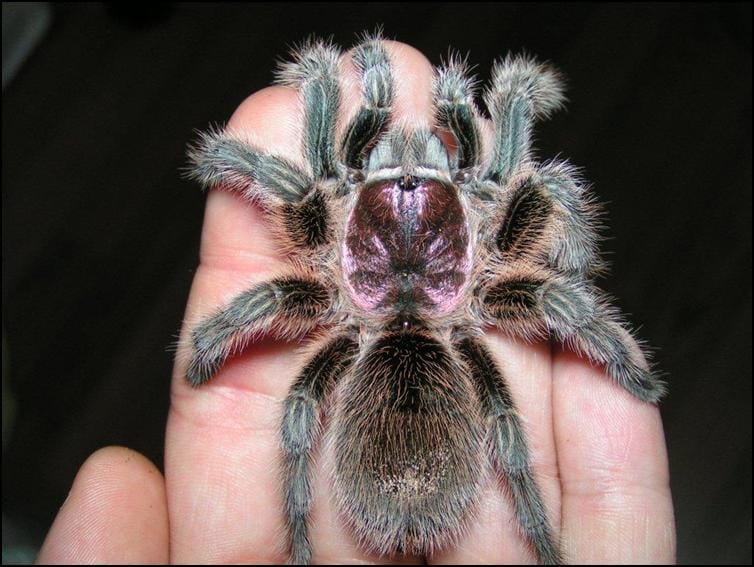 Tarantulas have to routinely moult, which is the process of renewing their exoskeleton (their outer body or skin) and casting off or shedding their old exoskeleton. It is a remarkable process particularly because they somehow manage to leave their old exoskeleton in one piece during the process, making it look a lot like a real living tarantula! I was once fortunate enough to witness Rosanna actually moulting, and was able to take a series of photographs of the event as seen below:
Tarantulas start the actual process by producing and laying down a 'bed' of silk and then lying on their back, the silk protecting their delicate abdomen during the moulting process: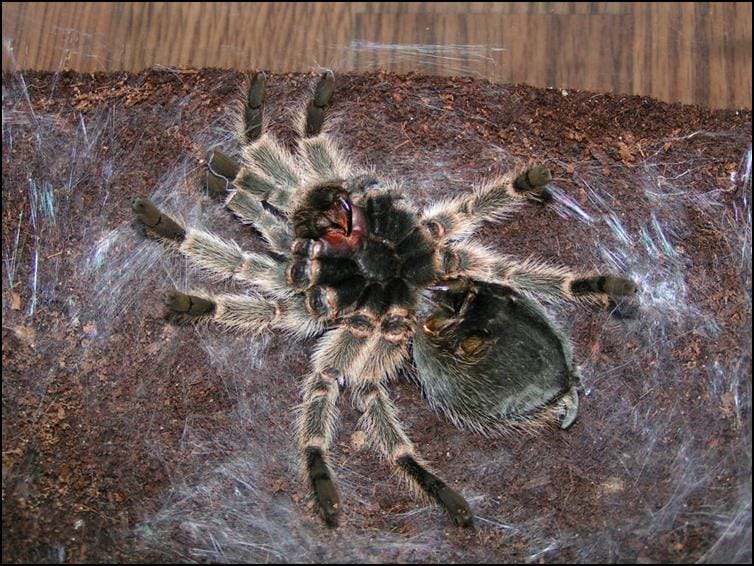 The actual process of moulting is a very demanding one for a tarantula and it takes a huge amount of energy to complete successfully. If they are disturbed in any way during the process they can be severely stressed and fail to moult successfully, or even die. For this reason, and as soon as I saw that Rosanna was lying on her back and therefore preparing to moult, I opened the lid of her enclosure and left it open and in one place during the whole process. This meant that each time I revisited her to see how she was doing I would not need to disturb her at all. I did not sit and watch the entire process as I knew from experience that it could take several hours from start to finish, and instead just checked in on her very regularly during the four or so hours that it did eventually take!
The picture above shows the first visible sign of the moulting process, which is the tarantula's legs starting to be squeezed out of the old exoskeleton. Fluid pressure inside the tarantula's body is used to pop off the carapace (which is like the tarantula's head) and then the same pressure is used to squeeze the legs out of the hole where the carapace or head used to be! The legs are moving almost constantly during this part of the process as the fluid is being pumped through them. The picture below shows this part of the process a bit more closely, with those shiny bluish coloured (and hairy) things being the tarantula's 'new' legs emerging from inside those of the old exoskeleton or skin!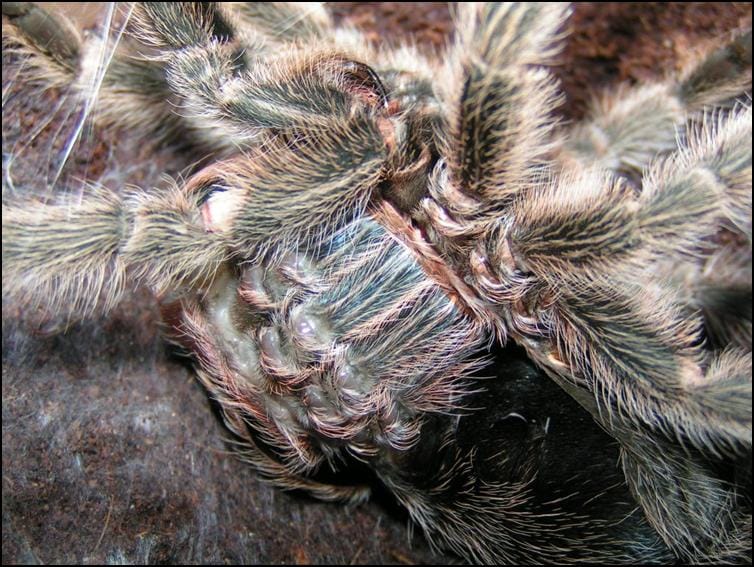 Half an hour or so later she had pushed her legs out a little further, and here you can clearly see that she is lying on her back and pushing the old exoskeleton off over the top of her new one!
Another hour or so later she had nearly completely pulled her legs free from the old exoskeleton as you can see below!
Finally, once the tarantula's new body is completely free from the old one, it will remain on its back for some time to rest following all the exertion required to moult. Her new body is very soft and will take some time to fully harden up again, in fact it can be as many as 7-10 days before the new exoskeleton of a large tarantula is fully hardened. During this time the tarantula is unable to feed as its fangs are soft and rubbery, as shown by their white colour in the picture below, which is very different to the normal black colour of the hard fangs of the 'old' exoskeleton!
It was a great privilege to witness this most amazing of natural processes and, even having actually watched it on this occasion, it never fails to amaze me how on earth a tarantula can get out of its old exoskeleton without damaging it at all, and leaving it in entirely one piece! They truly are a wonder of nature, I hope you agree! Another time when Rosanna moulted she produced an even thicker 'blanket' of silk to lie on, and when she had finished she looked absolutely beautiful as you can see below!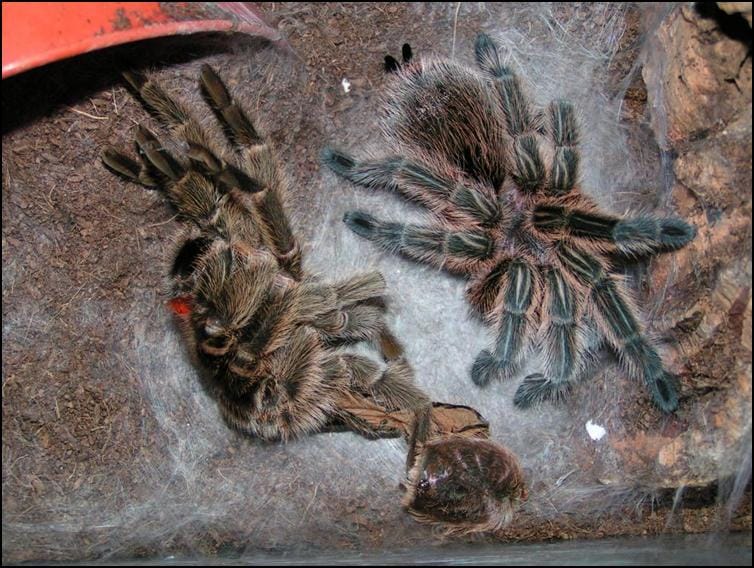 The empty exoskeleton itself (also called an exuvia) is a truly amazing thing as it looks JUST like a real living tarantula as you can see below, these pictures being of Rosanna's most recent moult to date in December 2010:
In this final picture you can even see the front four of Rosanna's eight eyes really clearly, just above the centre of the picture! The entire outer body is removed during the moulting process as a tarantula basically creates itself a new one underneath the old one, so the eyes are replaced along with all the hairs, the fangs and everything else! A remarkable process I'm sure you'll agree!