This absolutely stunning snake is a young female BISMARCK RINGED PYTHON (Bothrochilus boa), a species which in the wild is found on many of the islands of the Bismarck archipelago off of the east coast of Papua New Guinea. This individual, however, was hatched at the home of a breeder friend of mine in Wednesbury, just northwest of Birmingham, on June 30th 2021!
Prior to obtaining this individual in October 2021 it had been the species at the top of my snake wishlist for many years, so acquiring this beautiful snake was very exciting indeed for me! 
You can see from the pictures below that this species has beautifully iridescent scales. This is why her name is Iris, as Iris was the Greek goddess of rainbows and the word iridescent originates from the Greek word iris! This name was chosen following a competition which I ran in the spring of 2022 and the winning name was first suggested by Freya Cooke of Winchester – thanks Freya!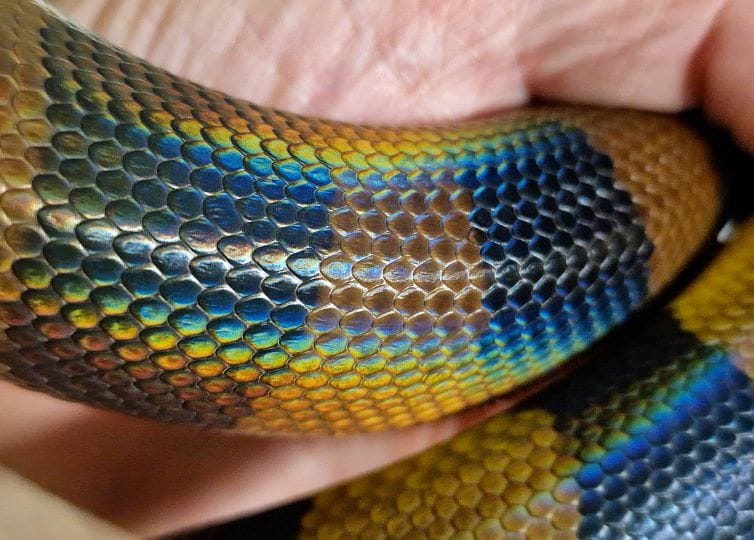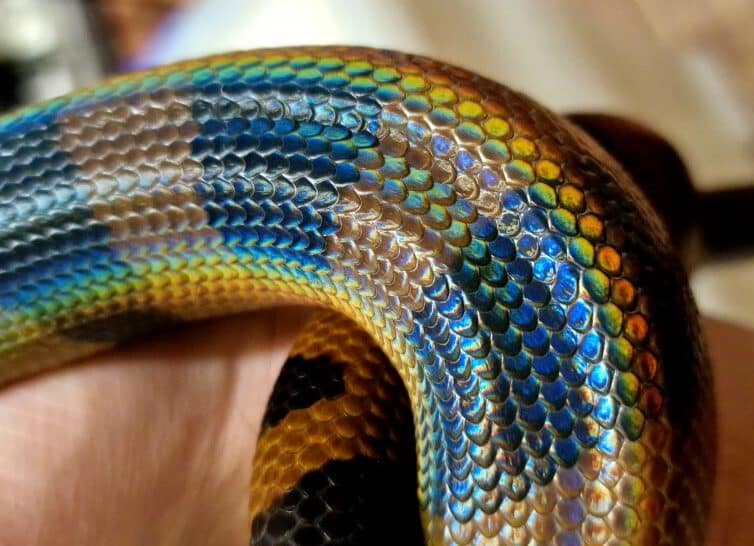 When they hatch, babies of this species have the most incredibly vivid orange bands paired with jet black, which makes them one of the most strikingly beautiful python species on the planet. Here is Iris as a baby when I collected her in October 2021, back when she only weighed 17g!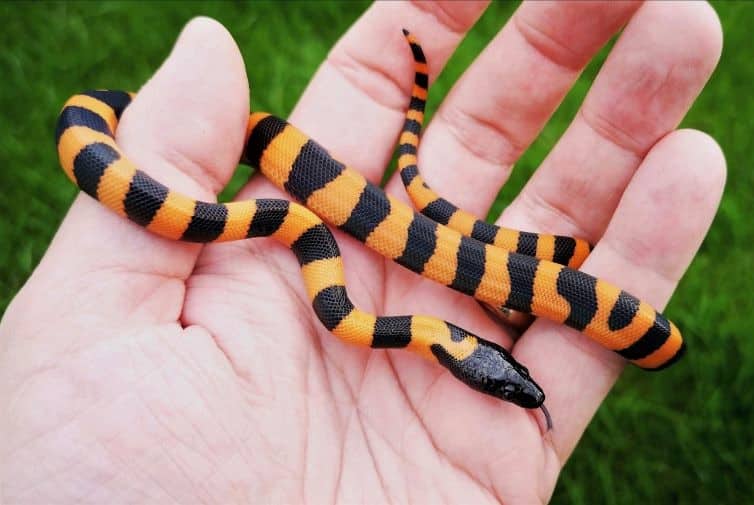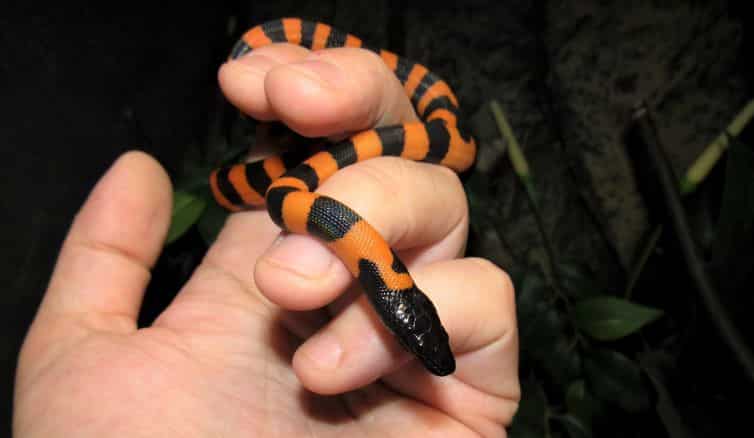 What is interesting about this species is that as they grow the vividness of the orange colouration fades significantly, as does the high contrast between the black and orange bands in some individuals. Some individuals do retain a good level of contrast between the bands, albeit with less intensity, whereas others end up being an almost uniform black/brown colour as adults like this one:
Photograph courtesy of A & S Serpents
One thing all larger individuals have in common, however, is that the iridescence of their scales (especially in natural sunlight) is among the most spectacular of any python species on the planet! 
The picture below is of the mother of Iris and she has retained a great deal of contrast in her banding as an adult with amazing iridescence (which once again is a huge amount more impressive when outdoors in natural light) – I am hoping that Iris might turn out the same but only time will tell!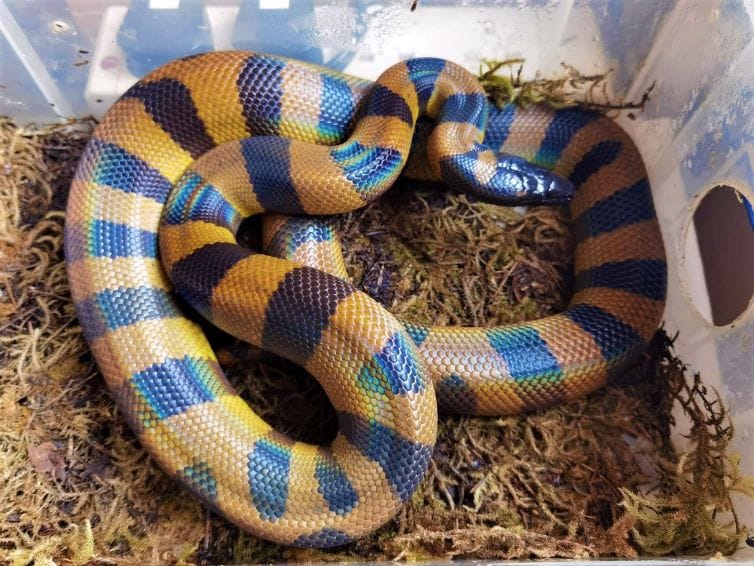 Photograph courtesy of A & S Serpents
The picture below is of the mother having just laid her eggs, which happened on April 24th 2021. I'd like to say a huge thank you to Alan and Steve Hawkes of A & S Serpents for their kind permission to share the pictures above and below of their wonderful female as well as the egg incubation and hatching process!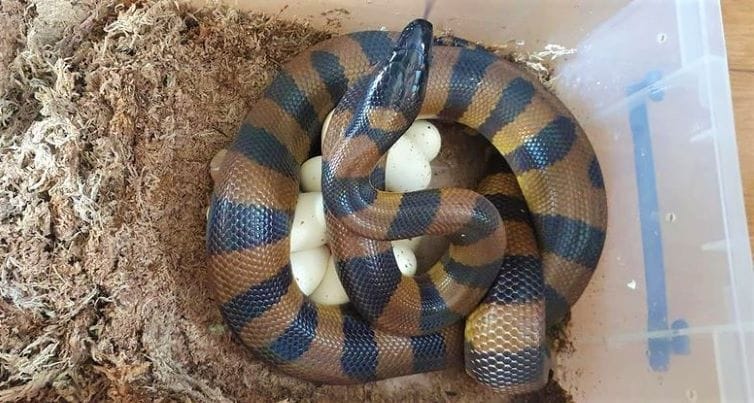 Photograph courtesy of A & S Serpents
Below is a picture of the eggs when newly placed in their incubator. You can see from the walls of the container that the incubator is very humid on the inside due to the moistened vermiculite substrate visible below the black grid. This is really important because most reptile eggs have a soft leathery shell (rather than a hard shell like a bird's egg) which absorbs water during the incubation process – if the eggs are kept in too dry an environment the babies inside cannnot absorb enough water and they will not survive the incubation process. The visible black cable which ends in the centre of the eggs is a probe linked to a thermostat which controls the temperature of the egg incubation process – this is because maintaining the correct temperature is another really important factor in the successful incubation of most reptile species!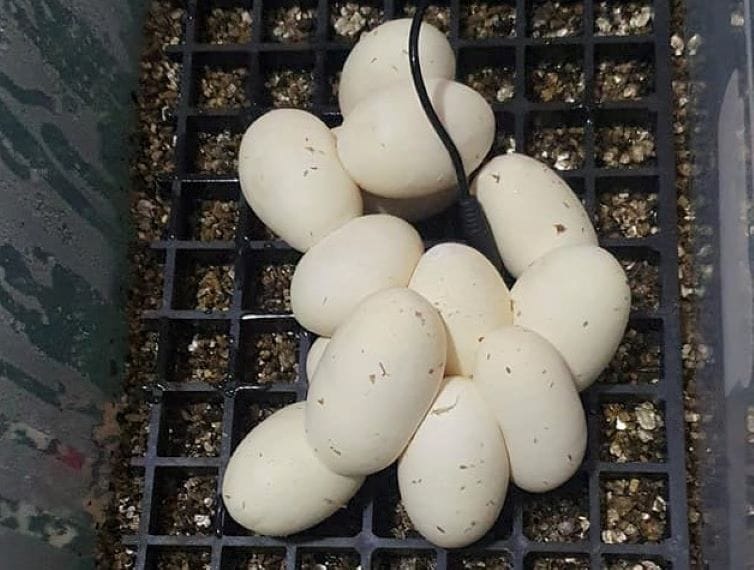 Photograph courtesy of A & S Serpents
Here is the very first baby poking its head out of the egg on 27th June 2021. Snake species which hatch from eggs develop an 'egg tooth' during incubation which is used to slice the egg's leathery shell from the inside to enable them to hatch – this egg tooth usually falls off when they shed their skin for the first time!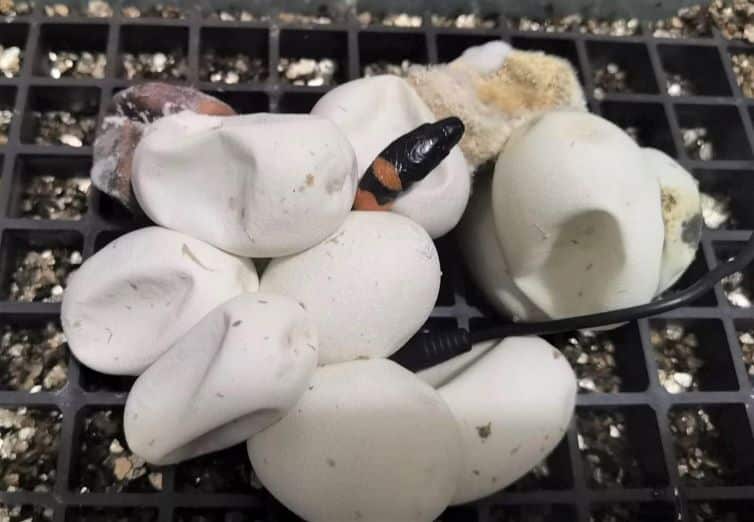 Photograph courtesy of A & S Serpents
This picture was taken just a couple of days later, when three of the babies had fully emerged from their eggs. You can see that each baby is quite unique in terms of pattern and levels of orange & black colouration – none of these three are my baby!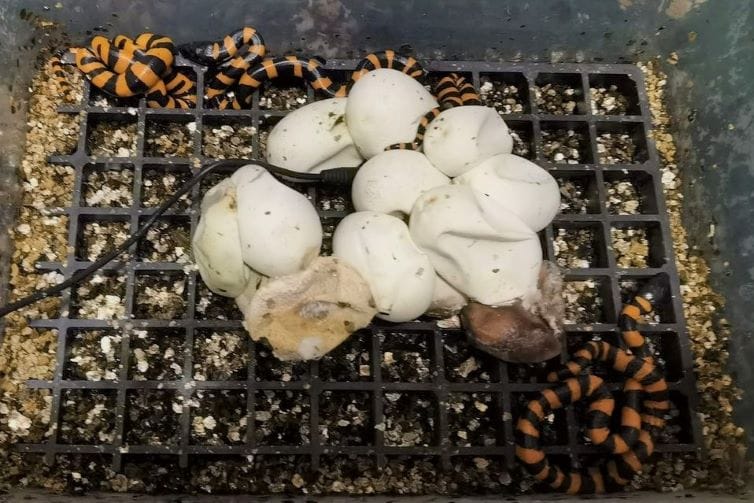 Photograph courtesy of A & S Serpents
My gorgeous Iris hatched the following day and I am delighted to have her in my collection. I am also really looking forward to seeing how she continues to change in the months/years ahead and will be sure to share her progress with you on this page!