These absolutely stunning spiders are juveniles of a species known as Avicularia versicolor or more commonly the ANTILLES PINK TOED TARANTULA or MARTINIQUE PINK TOED TARANTULA. In the wild these fabulous spiders live in the trees of the warm tropical rainforests on the islands of Martinique & Guadeloupe in the Caribbean.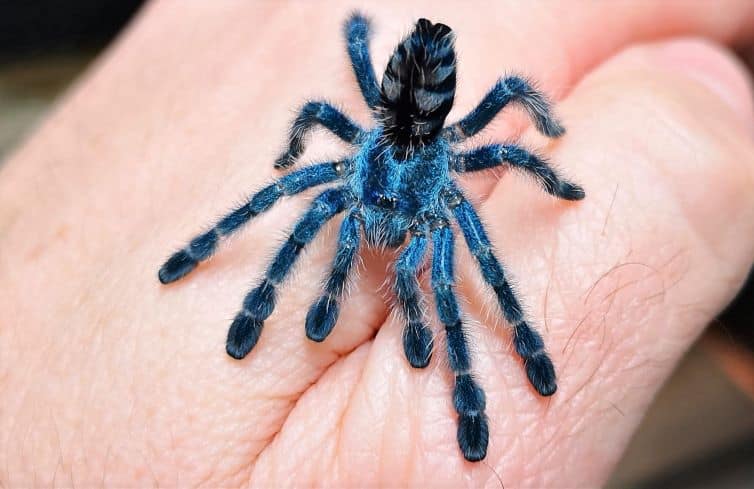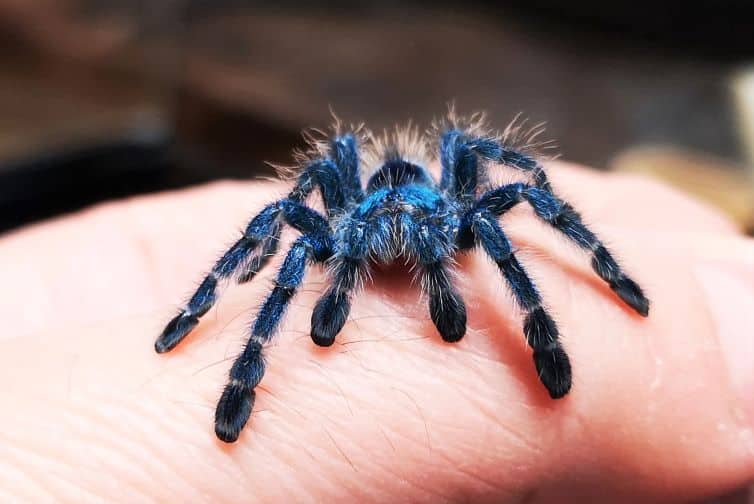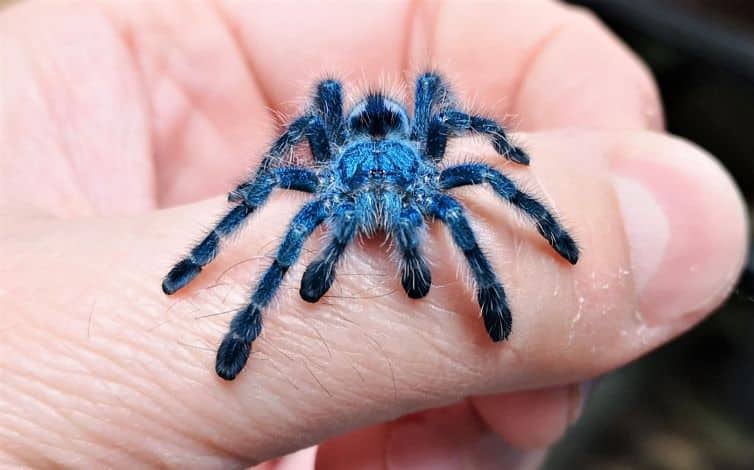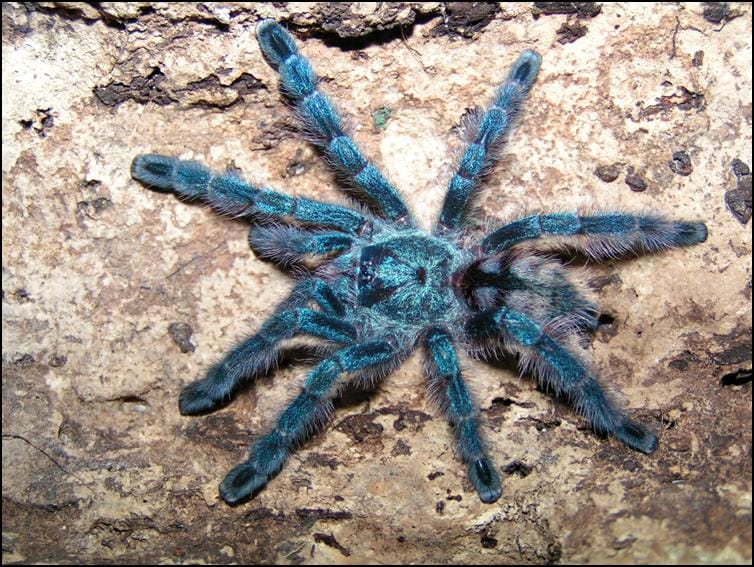 Although as juveniles they are mainly this truly amazing blue colour, as they grow and develop they change colour considerably. As adults the males are more vibrant in terms of colouration than the females and they are a mixture of blue, green, red, orange, purple and pink as you can see here!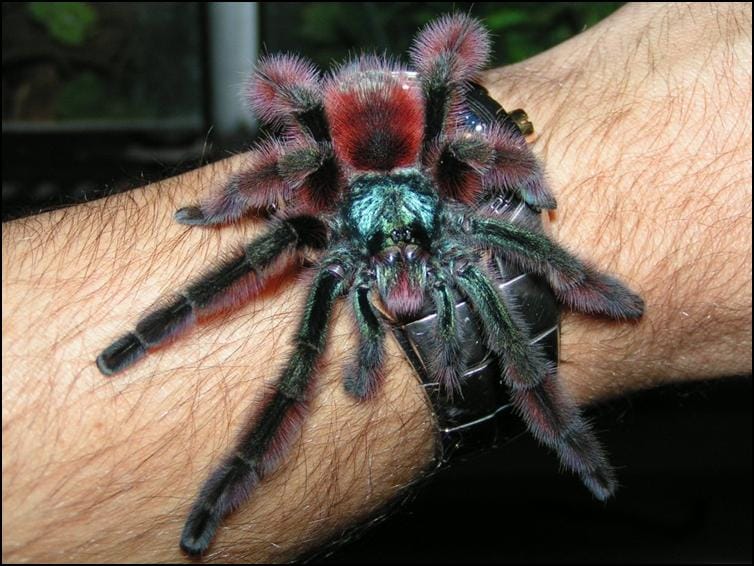 The adult female below is named Naomi and, whilst she is certainly beautiful in her own right, she (like all females) isn't quite so vibrantly colourful as the male above.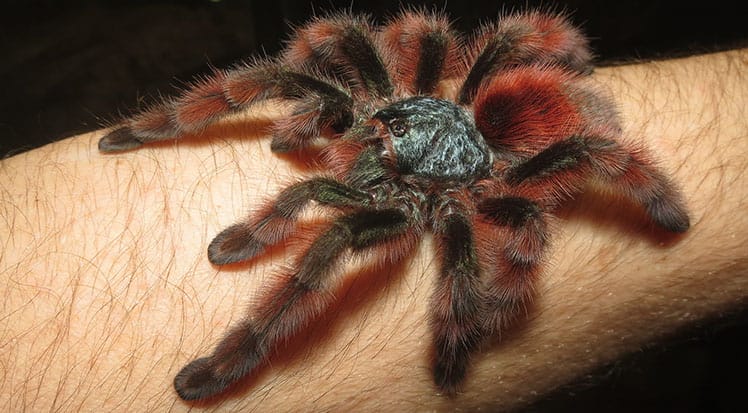 The adult male in the picture above the female was the first individual of this species I ever owned and was bought as a small blue juvenile just a few weeks old in October 2010. I did not know its gender at this time as it is almost impossible to determine the gender of a juvenile tarantula; in fact it wasn't until this one matured as a male in September 2011 that I was absolutely sure! I named him Smartie because of all his colours and here you can see how much he grew between when I bought him and when he matured, all in the space of eleven months!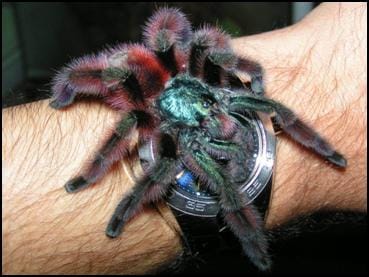 When Smartie matured and I realised he was definitely male I was very disappointed. The reason for this is that once they have matured males typically only live for a few months, unlike the females which can live for many years. Having grown very attached to him and his beauty this was very sad news indeed, particularly as I had so enjoyed watching him grow from a tiny baby to an amazing adult.
Whilst I was very disappointed to discover that he was in fact male, I was delighted when a friend of mine who works at Bristol Zoo's Bug World asked if I could consider lending them Smartie on a breeding loan as they had an adult female but not a male! I agreed to lend Smartie to the zoo because I thought it would be fantastic if Smartie's legacy (as well as bringing so much pleasure to the many people who he had met to that point during his time here) could involve him fathering some babies.
In October 2011 he was handed over to the zoo and stayed there for several weeks, during which time he was introduced to their female a number of times. This picture shows one of these pairings: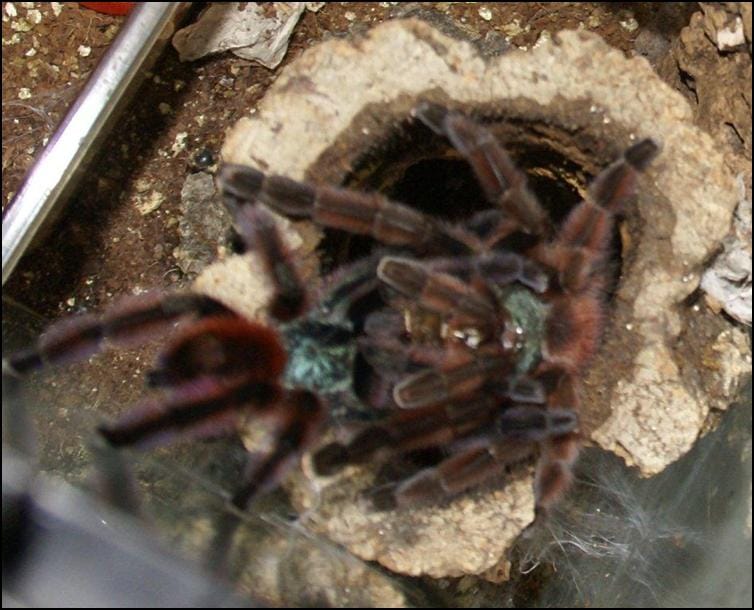 Whilst there was no guarantee that the pairings would be successful I was absolutely thrilled when the zoo confirmed in February 2012 that their female had laid an egg sac (pictured below photographed on 17th February 2012):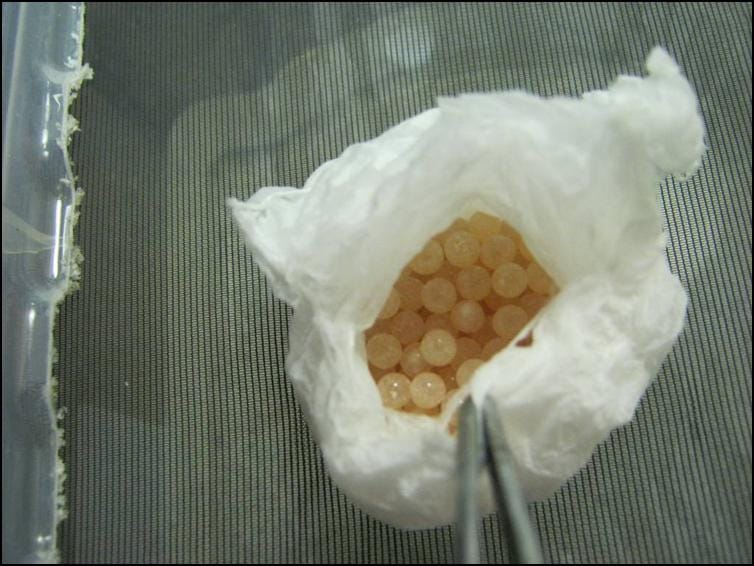 The fantastic news is that more than 150 babies hatched just five days after the picture above was taken!! I first visited the zoo to see the spiderlings on 27th February 2012 when they were just five days old, very tiny and looked like this: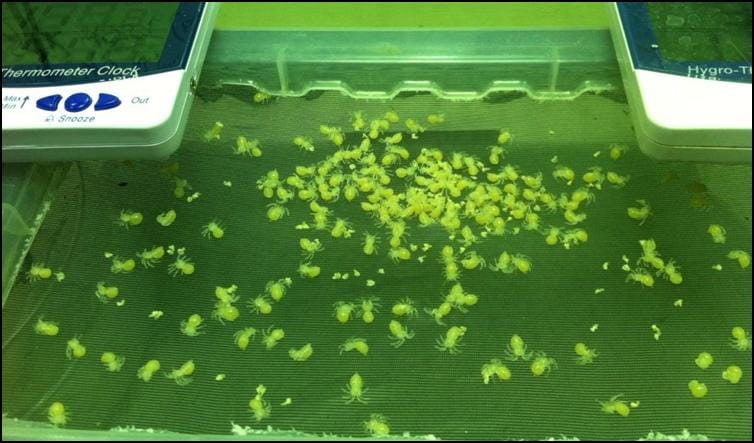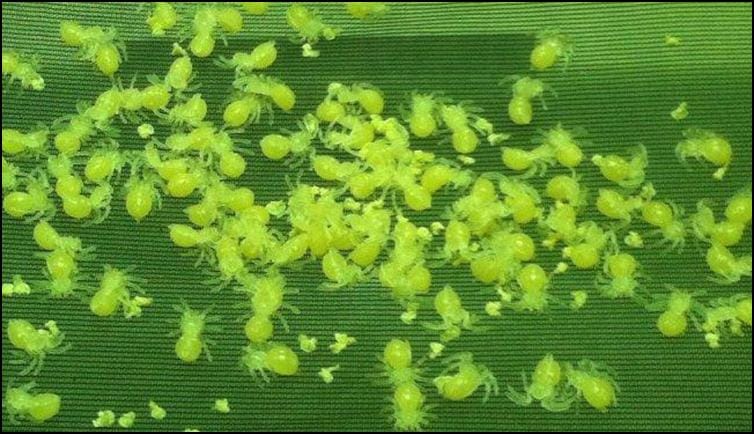 For a few weeks after hatching the babies are a bit like 'eggs with legs' and quite immobile, clearly looking VERY different indeed from the way that the adults look! The pictures below were both taken on 14th March 2012 when they were a little more developed, although still largely immobile. Usually these stages of life occur within the egg sac and therefore are not usually seen, but the zoo had made the decision to incubate the eggs outside of the egg sac, allowing these amazing growth stages to be seen and documented!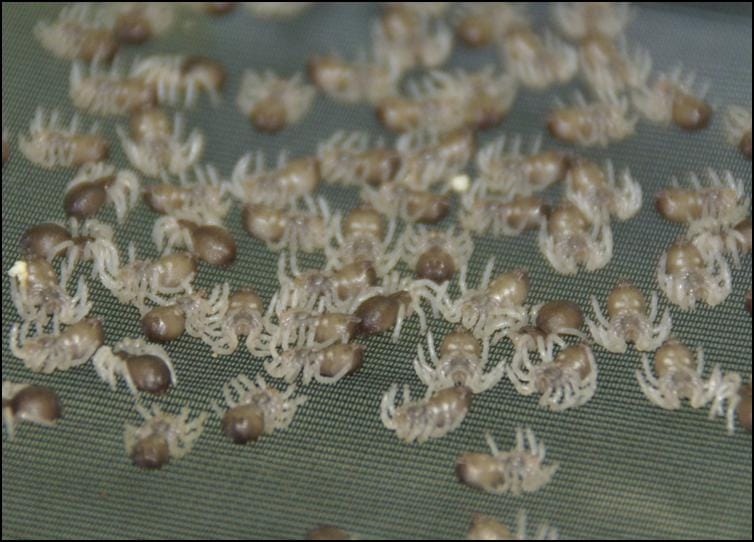 Photographs courtesy of Mark Bushell
The picture below was taken on 21st March 2012 and shows just how remarkable the colour change was in the seven days since the above pictures were taken!
Photograph courtesy of Carmen Solan
The pictures above show the babies as they looked just before they moulted their exoskeletons again and become the beautiful turquoise and fluffy (and highly active) spiderlings which babies of this species are known for! This occurred on March 25th 2012 and here is a picture of the first one emerging from its old exoskeleton: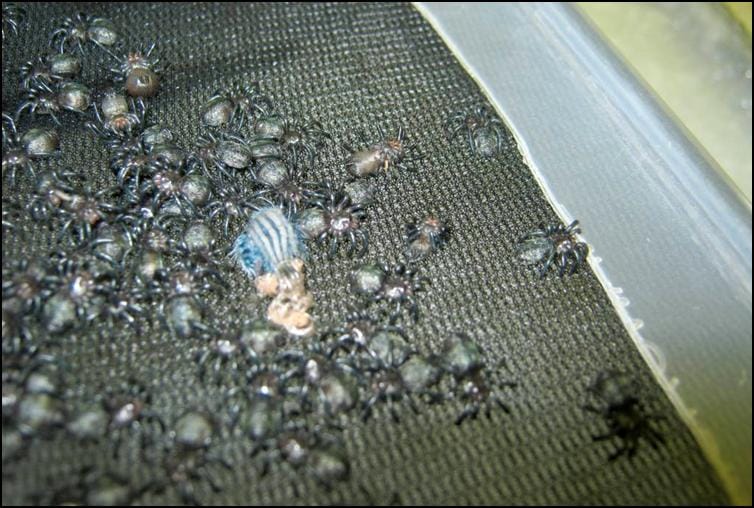 Photograph courtesy of Carmen Solan
Here is the scene just a few hours later when a great many more of them had moulted!!!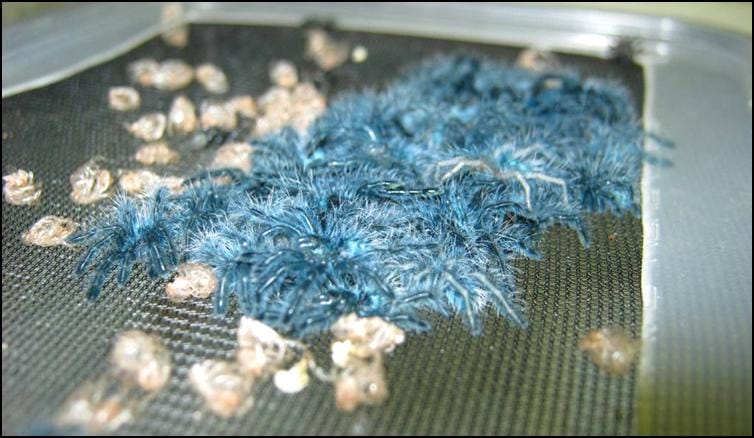 Photograph courtesy of Carmen Solan
You can clearly see the incredible colour change in the picture above, they really are beautifully blue at this stage. What the picture also shows is just how very large each spider is compared to their cream-coloured discarded exoskeletons (exuviae). Having said that each individual is still less than 10mm across at this stage!
I would like to say a huge public thank you to Mark Bushell – Bristol Zoo's Curator of Invertebrates – and the rest of the Bug World team at Bristol Zoo for their excellent work and also for keeping me informed at every step of the way!
All of this zoo baby news in 2012 was especially exciting for me because as part of the breeding loan agreement with the zoo I was to receive 50% of all the spiderlings which successfully moulted to this next life stage. On Monday 15th April 2012 I visited the zoo and collected 74 adorable little blue babies! Here are just a couple of them on collection: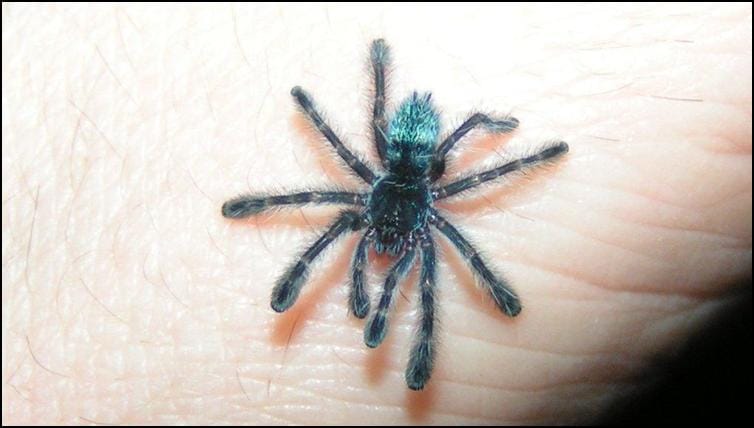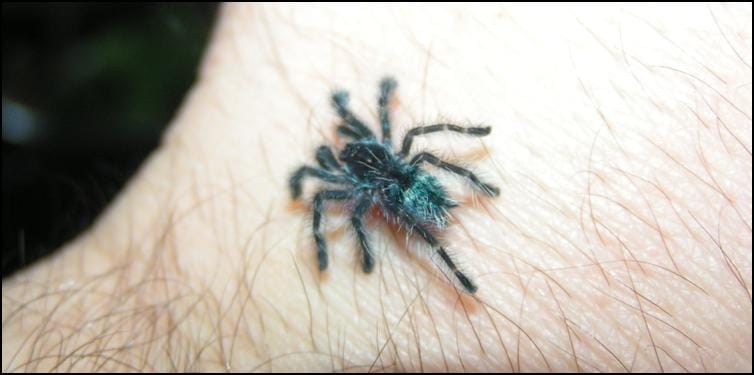 News of Bristol zoo's success in breeding this fantastic species (with Smartie's help!) was shared in many different settings including on local television, online and in print, and even reached the national press as you can see here from the Daily Mail's article on April 30th 2012!
Smartie eventually died in early May 2012 but as sad as I was to see him go he actually outlived the usual expectations for a male of this species by many months as well as leaving behind a legacy in the form of all these babies. Since then many of Smartie's offspring have had their own babies in the collections of friends of mine, such that I now own many of his own grandchildren!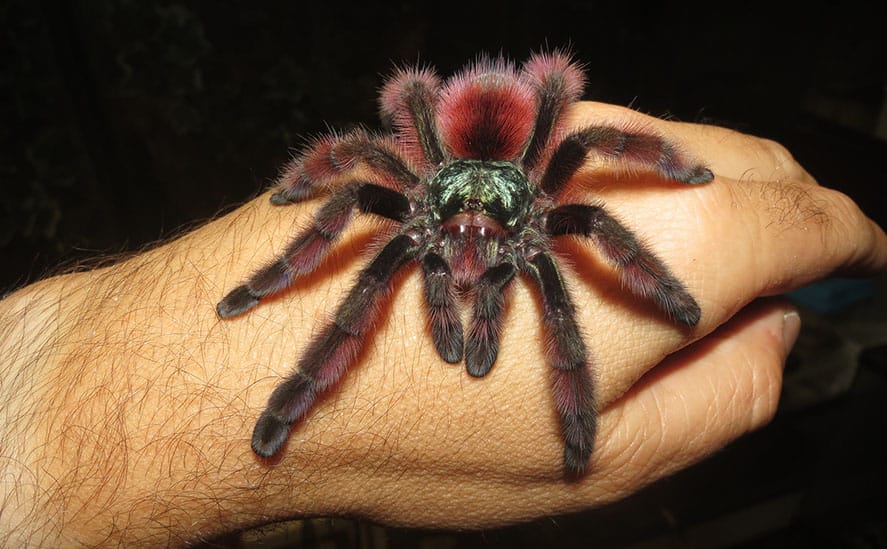 Like all spiders this species has to moult its exoskeleton regularly as it grows, and below you can see the type of scene which you discover every time this happens, with the real spider being on the right of the picture and its empty exoskeleton (or exuvia) on the left hand side!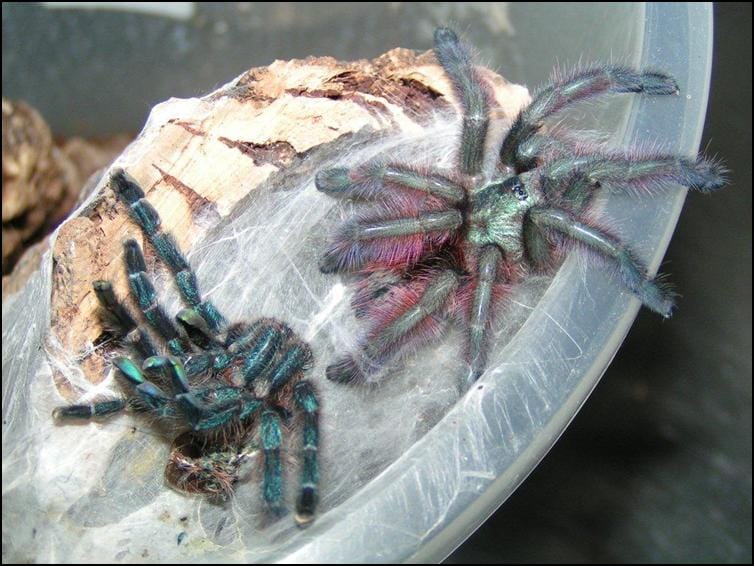 Pictured below is the final moulted exoskeleton (exuvia) of a male of the species, first with the carapace (head area) in place and with it removed in the second picture: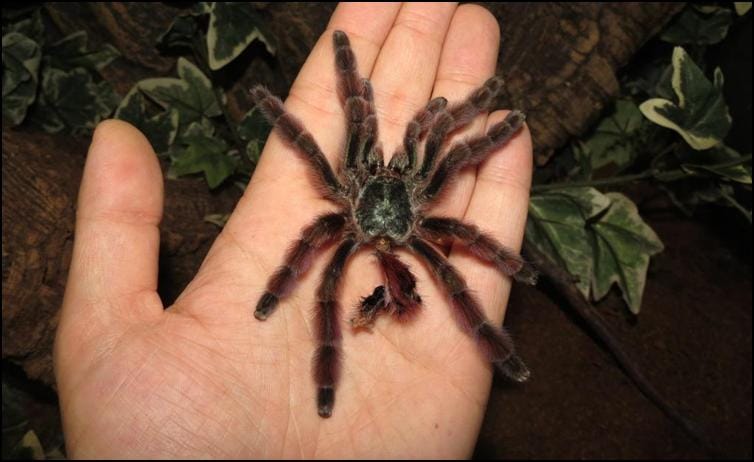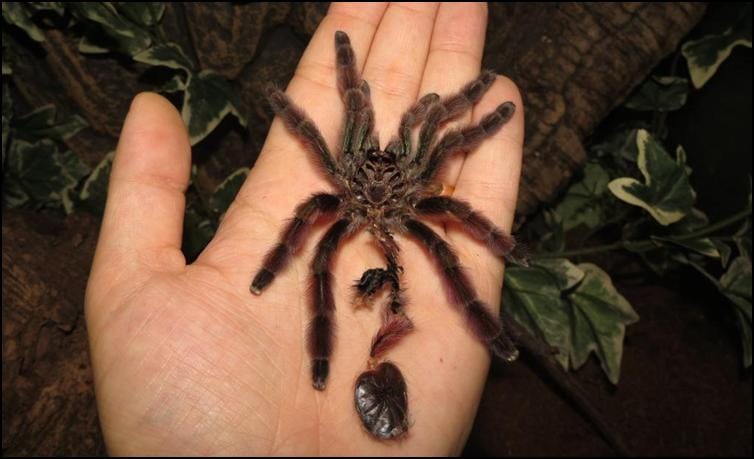 The close-up picture below of the central area of the exuvia allows you to see the openings of each of the hollow 'tunnels', through which the newly formed legs and other body parts are pulled / removed during the moulting process. It really is a remarkable process and the fact that they can remove their entire new exoskeleton from the old one without breaking the old one never ceases to amaze and impress me!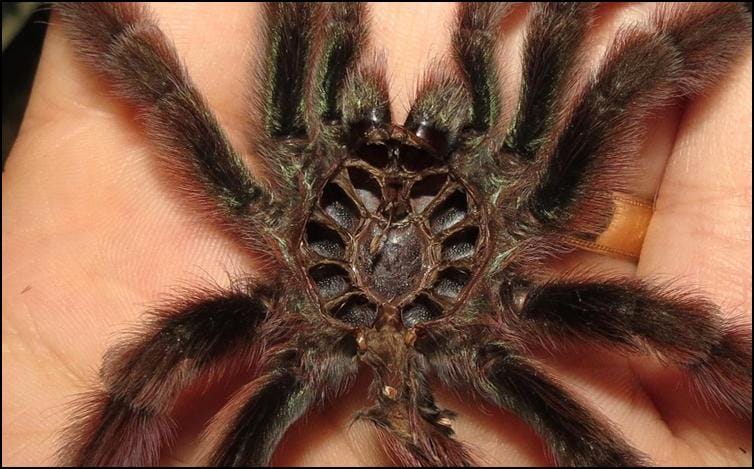 After several years of keeping the species I now have quite a collection of exuviae from them and when you line up four consecutive exuviae together it is amazing to see just how much they grow each time they moult! Sadly these exuviae are very fragile indeed and because I handle them regularly to show children in schools etc. they unfortunately frequently lose limbs, hence why the older ones are looking a bit 'legless'!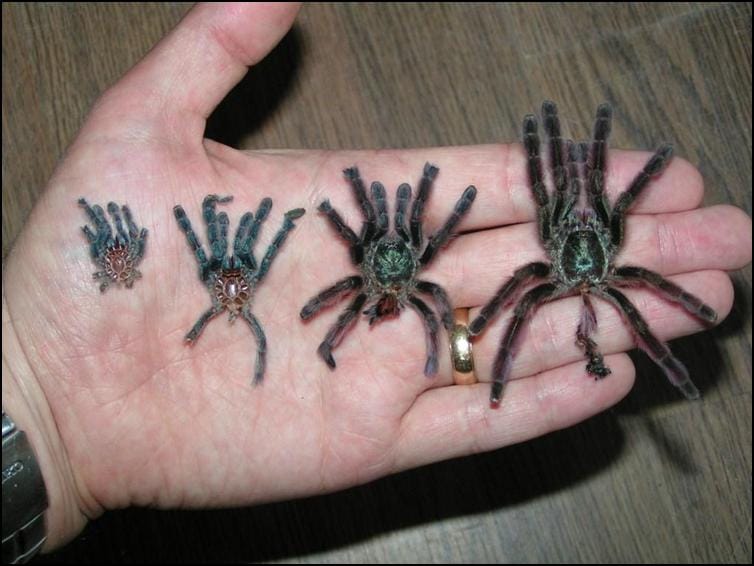 Like many other species of invertebrates, tarantulas can also regrow their own lost limbs through the process of moulting. I once acquired a spiderling of this species which for some reason only had seven legs, but within a few weeks of acquiring it the eight leg had grown back!! Here it is when I received it, with the rear left leg clearly missing: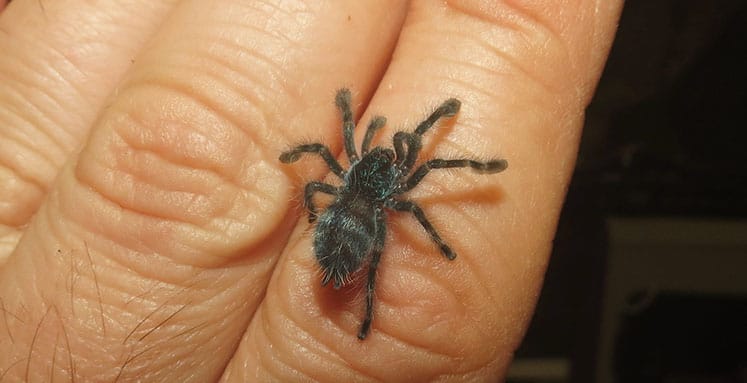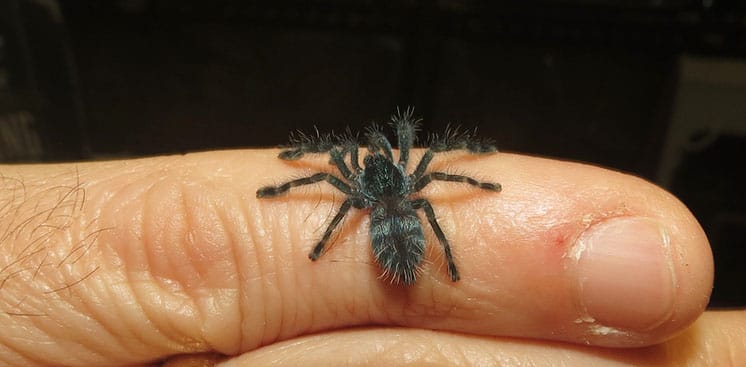 Here it is following a moult a few weeks later, when the rear left leg had grown back but still looked thinner and weaker than the other seven:
Here it is following a moult just a month later, by which point the eighth leg was looking as thick and as strong as all the other seven – absolutely amazing!!