COSTA RICAN MILLIPEDES AND CRABS
As well as all the insects and arachnids (which have their own dedicated pages) we were also fortunate to encounter a selection of two of my other favourite invertebrate groups, namely millipedes and crabs.
The first millipede we encountered was my favourite because it was very beautiful, it was the very first animal I spotted when we arrived in the area near Selva Verde Lodge, literally moments after stepping off of our river boat cruise along the Sarapiqui River from Maquenque Lodge!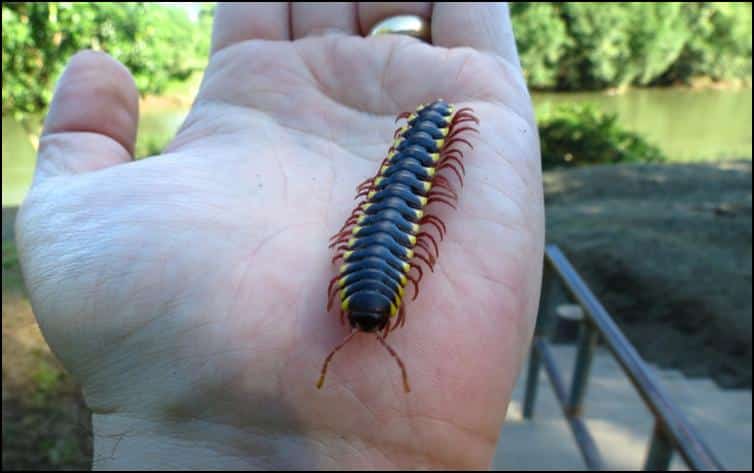 The other millipede species we saw LOTS of was another flat millipede species, in fact the vast majority of the millipedes we encountered on the trip were flat millipedes rather than the more conventionally tubular shaped species.
We often saw a great many of them together at the same time, especially at night in the rainforest. Here are a pair, with the smaller male above the larger female:
We encountered some amazing crabs on our travels too, all in the west of the Osa Peninsula which was the only coastal location of the trip. My favourite one was this enormous and beautiful orange land crab which was living in the rainforest in the grounds of Luna Lodge, a long way from the ocean!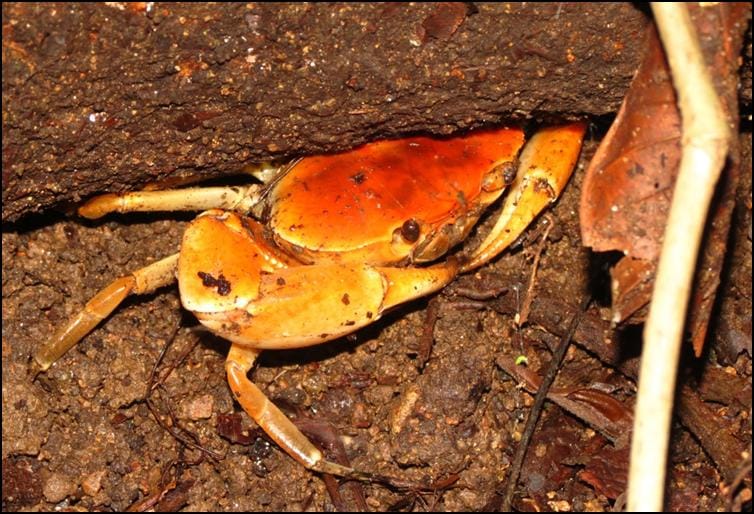 During our walk along the beach into the Corcovado National Park we saw two other species, one of which was digging a burrow:
Here is another individual of the same species out of its burrow:
On that same walk we were absolutely amazed by the sheer numbers of land hermit crabs we encountered, these are a very common species in this part of the world. Sadly I didn't get any decent photographs to convey the density of crabs we saw which is a massive shame, but here is one of the cute little critters:
The final species we encountered were these amazing ghost crabs, seen during a stopover at the beachside on the Osa Peninsula. They were most amusing to watch because each individual crab was defending a burrow (the small circular holes in the picture below) whilst simultaneously leaving the burrow to find food – they didn't ever seem too sure which was more important and spent much of the time running back and forth, surely expending more energy than the food they were collecting would be giving them!