COSTA RICAN INSECT HIGHLIGHTS!
We encountered SO many truly amazing insects in Costa Rica that it would literally be impossible to share them all here, but I will be sharing a few of my favourites because of course the insects are one of my favourite groups of animals! During both our group daytime excursions and the many night walks that Nick and I shared, sometimes with other members of the group and other times not, we were treated to insects of every shape, size and colour imaginable.
We even found some that were so bizarre that they weren't actually imaginable at all!!! One of these was this truly amazing and exceptionally beautiful lantern bug known as Phrictus quinquepartitus, found in the rainforest at La Selva Biological Station, this was a creature quite unlike any insect I had ever seen before: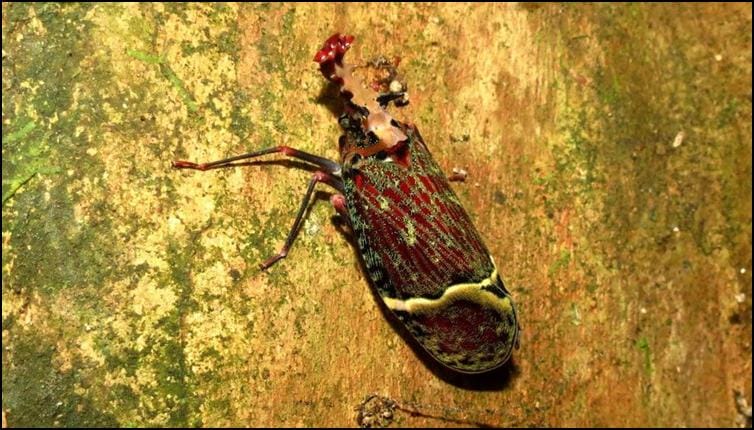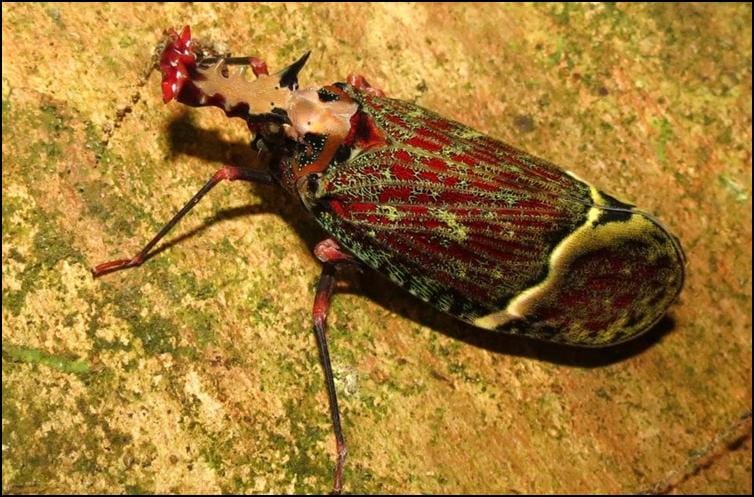 The strangest thing about this bizarre find was that from the distance at which it was spotted by our lovely fellow traveller Kiera, which was actually quite some distance away, it looked like a fairly plain brown insect! It wasn't until we got closer that we realised just how special a find it really was! Here is Nick Baker taking some macro photographs of it (it is just to the right of his camera on the trunk of the tree) and you can see that it really doesn't look as pretty from a distance as it does up close!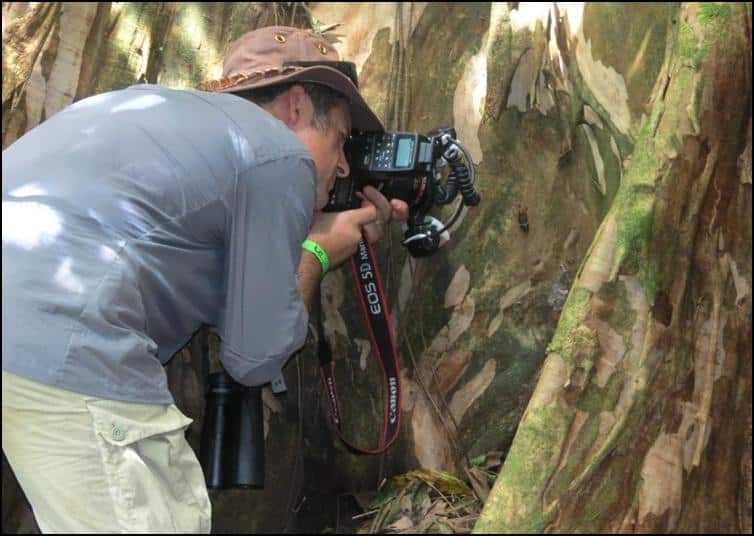 We had actually spotted a smaller lantern bug of a different species (Enchophora sanguinea) a couple of days prior to this find and whilst the first one was very beautiful in its own right it got a little bit superseded by the one above! Here is the first one, found in the rainforest within the grounds of Maquenque Eco-Lodge: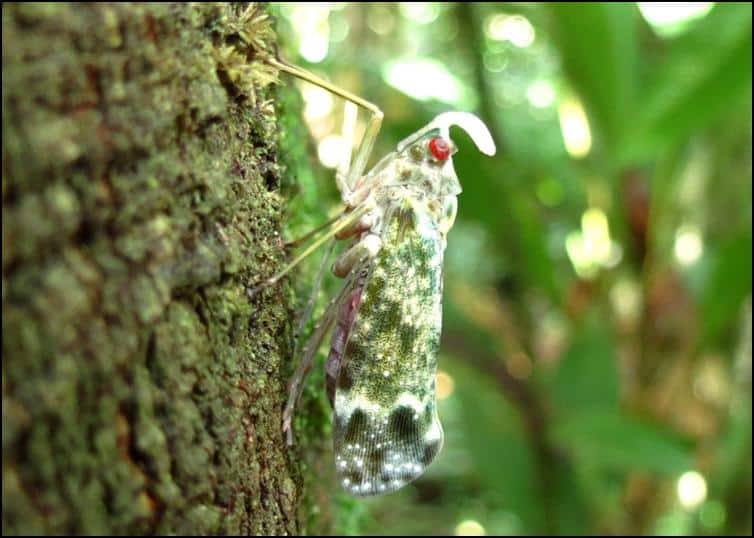 Another of my favourite finds, this time one which I found myself, was this beautiful metallic giant Ceiba borer beetle aka Euchroma gigantea! I found two of these on consecutive days and both were absolutely amazing!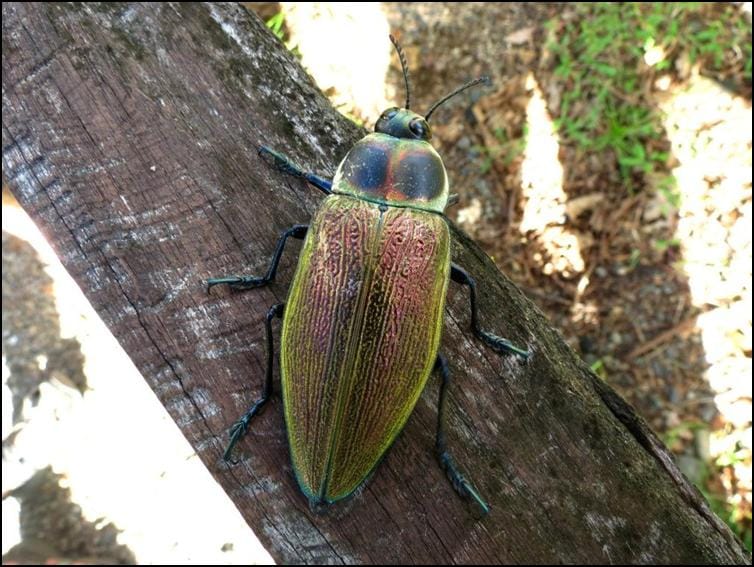 I found this first one wandering in the sunshine along the wooden barrier on the walkway alongside the beautiful lagoon-side restaurant at Maquenque Eco-Lodge, the first place at which we stayed during our trip: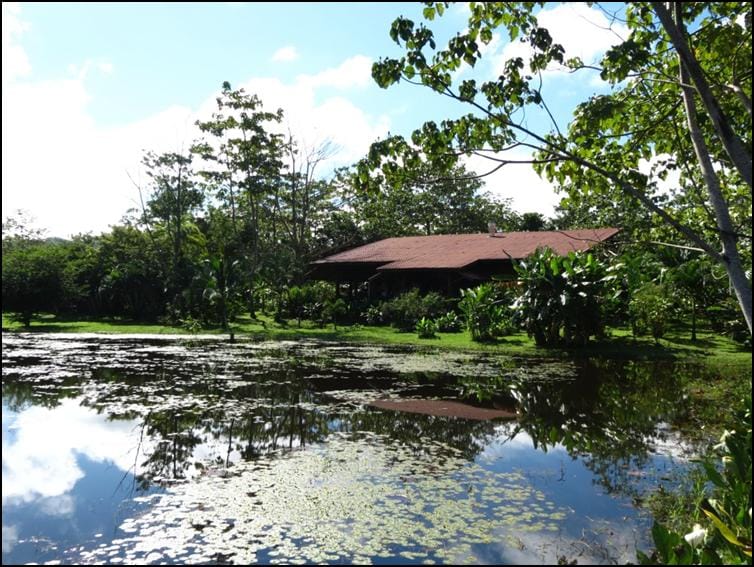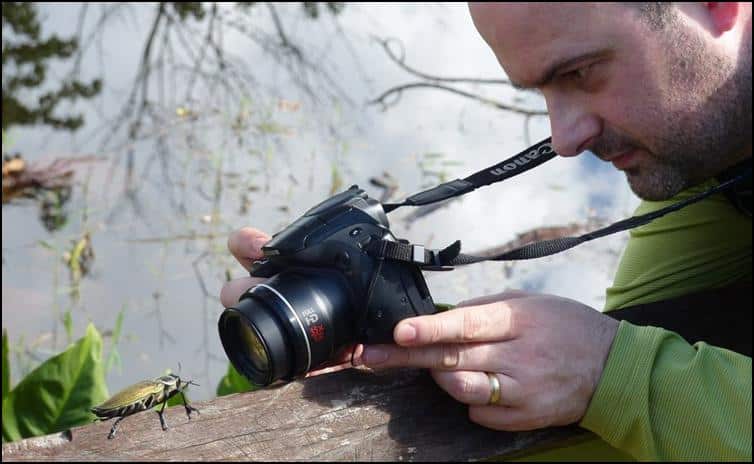 Above is a picture of me taking a picture of the beetle on the wooden barrier on which I found him, this very picture below in fact!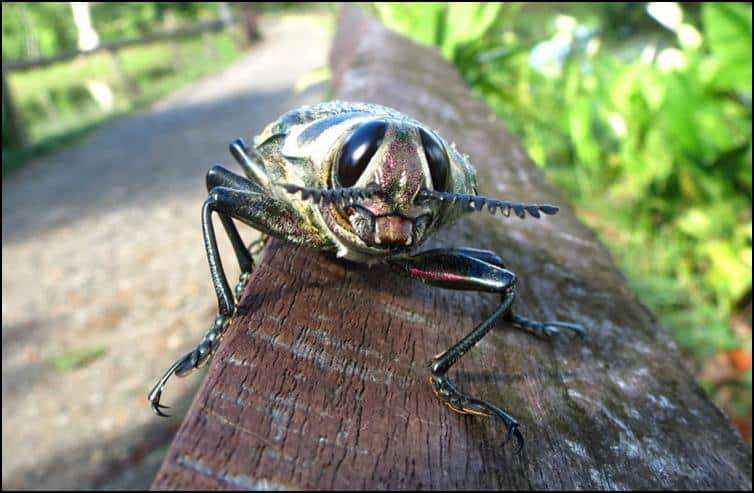 Here is Nick holding the same beetle, he was just as impressed with this one as I was!
Here is the second individual which I found the very next day, another absolute beauty!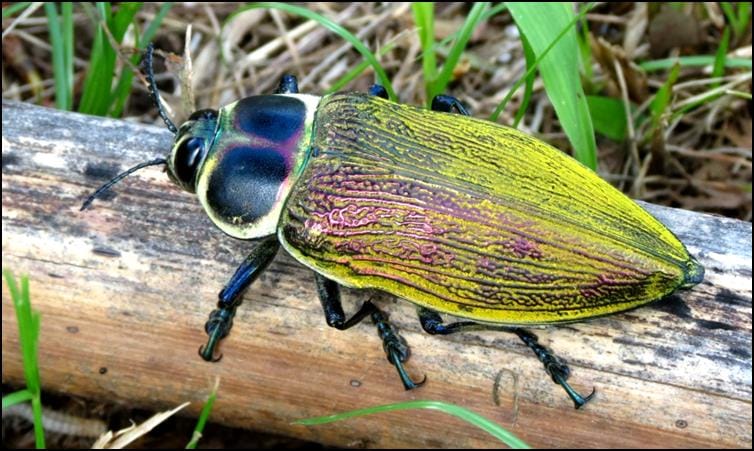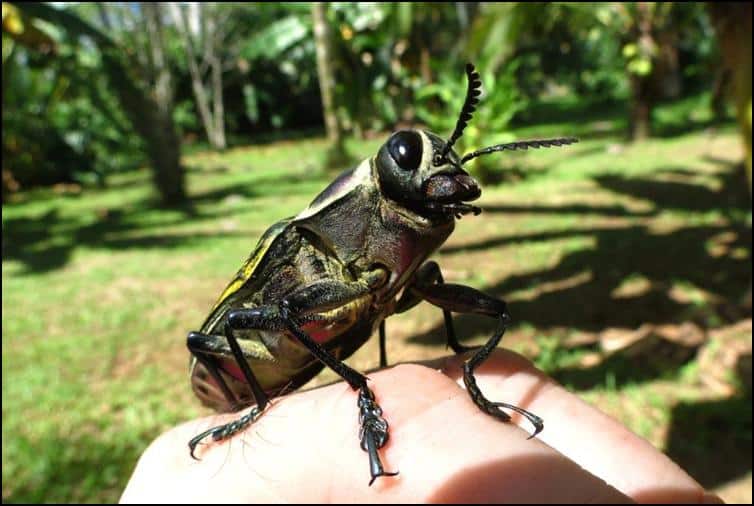 Another of my very favourite insect finds of the entire trip was this quite simply stunning species of katydid (bush cricket) known locally as the rhinoceros spear-bearer or Copiphora rhinoceros. I keep katydids myself as per the species on my 'Meet the Animals' page and, as amazing as they are, none of them are quite as spectacular as this one!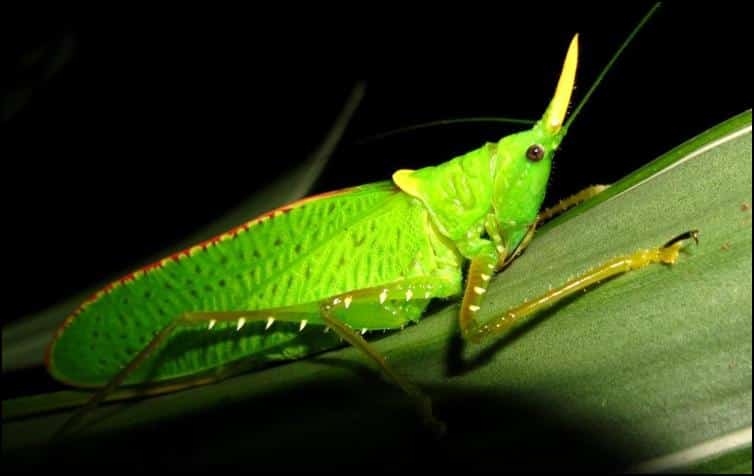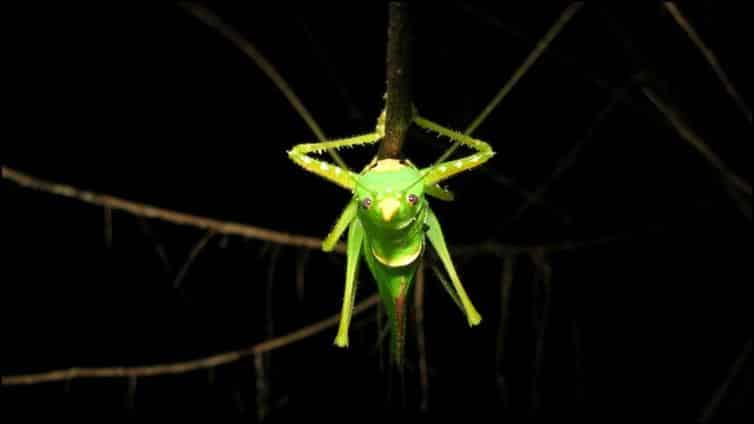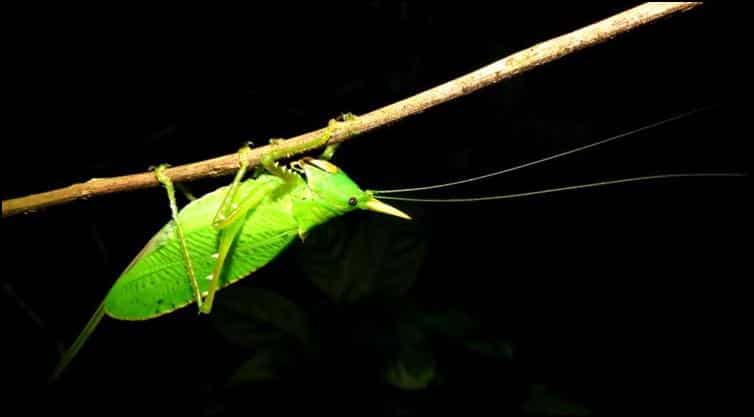 This was a species we only ever encountered at night-time and only at Selva Verde Lodge. It was absolutely beautiful and such a spectacular vivid green colour, in stark contrast to another katydid species we encountered at Luna Lodge (below) which looked more like a dead leaf than living green leaves!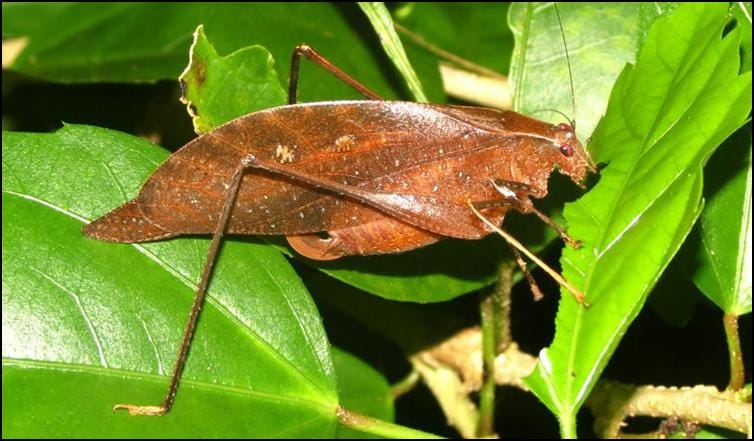 A third katydid species we encountered (also at Selva Verde Lodge) also demonstrated the most fantastic camouflage as well as the longest antennae I have ever seen on a living insect! In the picture below it is sitting near the base of the large green leaf in the centre and its antennae are actually so long that they extend beyond the left hand side of the picture!! Amazing.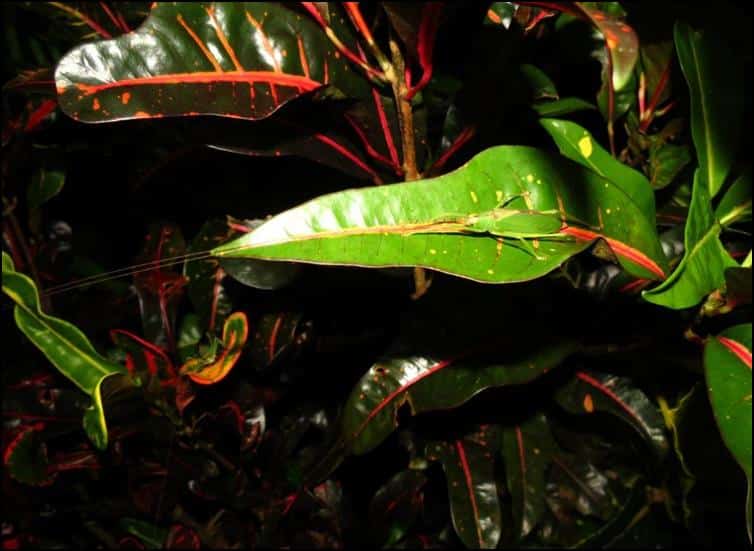 For pictures of even more amazing Costa Rican insect species please click HERE!